Today we have a few changes to the dynamic macronutrients feature. These changes are on the web version only, but will be rolled out in the mobile apps as well in their next updates.
We've had the dynamic macronutrient targets feature for a long time, which lets you set and display preferred macronutrient ratio target. However, the macro targets have always been computed off of a fixed calorie target (the yellow bar).
Today, we are changing this to also be dynamically derived from your energy expenditure (calories burned) and your weight goal. This is more in line with what people expect, and the old behaviour has caused a lot of confusion for people.
If you stubbornly prefer it the old way, we can help you override it if you email our support.
Ketogenic Mode
Ketogenic diets are becoming extremely popular. We've added some specific improvements for people following a nutritional ketosis diet.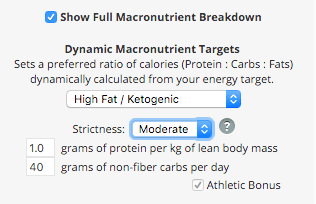 In the macronutrient settings, if you select the 'Ketogenic' option, now, instead of the previous fixed ratios, we dynamically calculate your maximum ketogenic protein and carbohydrate limits based on your lean body mass and exercise levels. Anything remaining, gets assigned to fats. We offer three ketogenic diet presets: Rigorous, Moderate, and Relaxed, as well as an option to choose custom values.
You can now hover your cursor over the macronutrient bars to see the top contributors to that macronutrient in your diary. This is especially helpful on a strict ketogenic diet where it can be critical to figure out what foods might be tipping you over your carbohydrate and protein limits.
In ketogenic mode, we also add some buttons next to the targets for easy logging of blood glucose and ketone measurements.
Body Snapshots
Under the trends tab we have added a new 'Snapshots' section where you can upload photos of your body recomposition progress. Each snapshot can store a caption and your body composition for the date of the photograph.
Please let us know what you think, and if you notice any bugs, we'll be standing by to address them!
For more details on these features, see our User Manual.