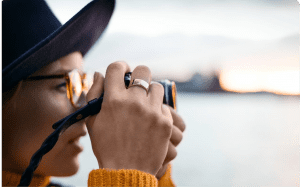 We are thrilled to announce Oura rings are now supported by Cronometer. This ultra light activity tracker packs a big punch; specializing in delivering you incredibly accurate sleep and activity data.
Advanced sensors monitor pulse measurements and body temperature every minute while you sleep then compare that value to values from earlier nights, indicating your body temperature baseline and any variations from it. A 3D accelerometer and gyroscope detects the amplitude and intensity of your body movement allowing Oura to recognize when you're active or when you're experiencing periods of inactivity.
Need a reminder to get moving? Oura will send notifications to your device to encourage you to move after long periods of inactivity.
If you own an Oura device you can now sync your Oura data to your Cronometer diary.
To sync, select the 'My Profile' option then select 'Connect Devices' from the Settings menu: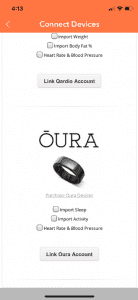 Click the 'Link Oura Account' button to authorize cronometer.com to sync with your Oura data, then click 'Authorize' when prompted by Oura, and you will be taken back to your diary where your Oura data should start to magically import into your diary: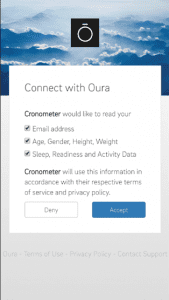 It's that easy!