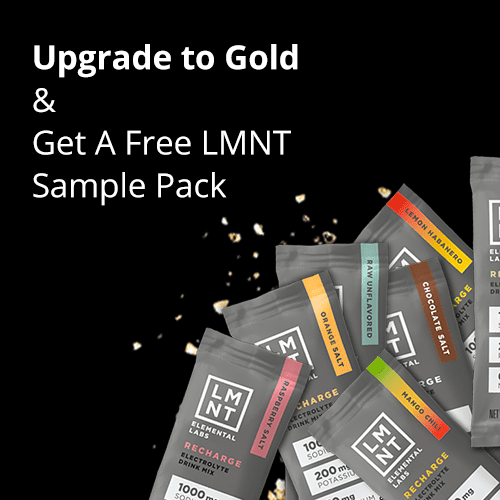 Upgrade To Gold
& Get A Free LMNT Sample Pack
For a limited time, Cronometer and LMNT are offering U.S. based users a free* sample pack when they upgrade to Cronometer Gold.
LMNT is a tasty electrolyte drink mix that replaces vital electrolytes without sugars and dodgy ingredients found in conventional sports drinks.
Not sure what electrolytes are or why you need them? We broke it down in this blog post.
On a recent podcast episode, we also chatted to the co-founder of Drink LMNT, Robb Wolf about the importance of hydration and electrolytes. Listen in on the conversation below!
Aside from ditching the ads, Cronometer Gold offers tons of additional features and functionality that can help you along your health journey. Gold users gain access to things like our Recipe Importer, Fasting Timer, Target Scheduler, Nutrition Scores & more.
Read our favourite reasons for upgrading here.
On the web app
Click here, choose your preferred plan and follow the prompts to upgrade to Gold.
On the mobile app
Click here or navigate to the settings page, tap account and then subscription. Choose your preferred plan and follow the prompts to upgrade to Gold.
Upon upgrading to a Cronometer Gold subscription, users who are based in the United States will be sent a link via an in-app message and an email (if you're subscribed). Follow the link to the LMNT website and complete the checkout process. 
*Please note, you will be responsible for a $5 flat rate shipping fee across the U.S. 
adding lmnt to cronometer
Once you receive the sample pack, be sure to keep an eye on your electrolyte levels by adding LMNT into your Cronometer account! All of the flavors in the sample pack are in our database and available to add to your diary!

Copyright © 2011-2021.
All rights reserved.