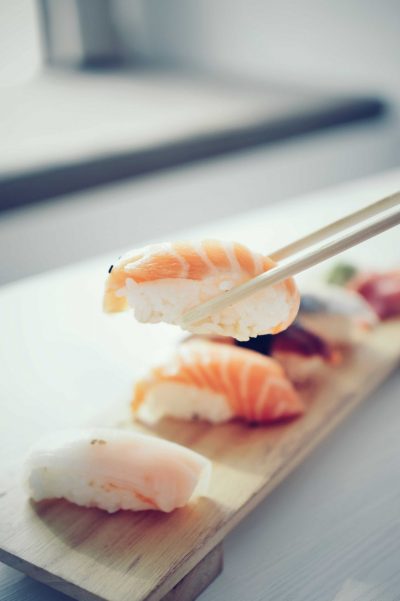 The carbohydrate content in rice could make ebi-ebi rolls a no-no for keto dieters, but alas, someone saved the day and found that cauliflower, when mashed, is so rice-like it can be subbed in nearly every situation! Sushi on, Keto community, sushi on!
Yes, traditionally sushi is made from seafood but with the culinary creativity of the vegan community you can bet there is a recipe out there – or 173,849 – to satisfy and delight. We aren't sure if it's the rainbow theme of this recipe, the fact that it's all loaded into one stack of handheld goodness or the fact that our mouths watered when we read the ingredients that made this a must-have for our Recipe Round Up this week.
The avocado roll is a staple of the sushi world. A building block in the foundation of sushi rolls everywhere – which is why it wouldn't be right to not include it this week. Maybe that's dramatic or maybe it's just that good. Make this recipe tonight to see for yourself!
Gluten Free sushi eaters get all the goodies as this fare is typically gluten free. Be sure to dive in (have you noticed the amount of sea puns laced throughout this blog?) to these salmon rolls.
Gold Users Access to Recipes
We have created a place for Gold Users to access these recipes! Use our "Add Friend" feature by adding recipes@cronometer.com as your friend to add these to your diary.
How To:
Gold users can add friends to share custom foods and recipes with. Select Add Friend to invite a friend to exchange custom foods and recipes. You can find your pending friend requests in the list. Once accepted, you can search for one another's custom foods and recipes. Click the Delete icon in the list to remove a friend you are currently sharing with.
Access our User Manual for further instructions about the Add Friend feature here.
Sharing with a friend only allows you to share custom foods and recipes. This will not allow your friend to view your diary or other personal information.