Cronometer: The Nutrition Super Tracker
The USDA will no longer offer food and physical activity tracking through SuperTracker, leaving current users looking for an alternative. Cronometer has garnered a reputation with fitness and nutrition experts as the most detailed and flexible nutrition tracking software available. Find out how Cronometer compares with SuperTracker and how to make the switch.
Detailed Nutrition Tracking
Food Composition database used by SuperTracker and NCCDB as well as our own curated database of branded products. Create custom foods and recipes to find the nutrition profile for your own unique foods and meals prepared at home. You can view the nutrition breakdown of any food or recipe in the Foods tab, just like SuperTracker's Food-A-Pedia.
Nutrient targets in Cronometer default to the same Dietary Reference Intakes used by SuperTracker. You can customize each nutrient target to meet your needs, making Cronometer a better choice if you are following a specialized diet. For example, you can increase your iron target if you are vegan or customize your macros for a ketogenic diet. Add foods to your diary and watch your nutrient targets below begin to fill up!
Here's a look at a screenshot of the nutrition tracking section, or better yet sign up for free at https://cronometer.com to give it a try: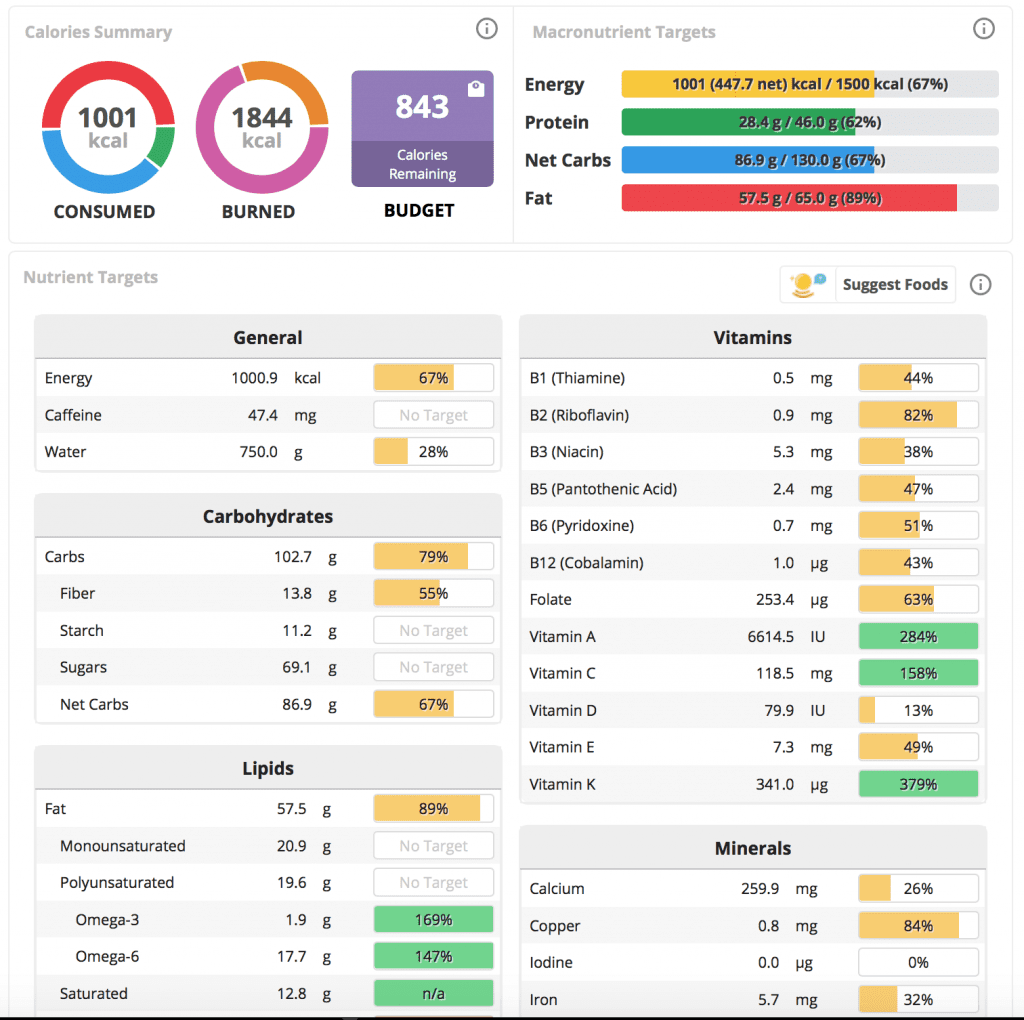 Monitor your Health
The Diary page in Cronometer combines foods, physical activities, health biometrics and notes, so you can track your health information all in one place. Monitor your diet by adding foods to your diary. Keep track of your physical activity by clicking Add Exercise, or automatically sync with a Cronometer-compatible activity tracker. Monitor your health biometrics by adding your weight, blood pressure, glucose, ketones and other measurements to your diary. Make notes about your food prep, symptoms, or activity to keep you motivated to reach your goals.
Nutrition Reports
View your progress over time in the Trends tab. Chart nutrients and biometrics to see where you have been meeting your goals and find out where you can improve. Generate Nutrition Reports to summarize your average daily nutrition intake and find out what foods contribute the most to each of your nutrient targets.

Cronometer Gold
Cronometer has even more high-powered features with a paid subscription to Cronometer Gold. https://cronometer.com/#gold
Get Food Suggestions tailored to meet your remaining targets for the day.
Search for foods that are high in a specific nutrient using the Ask the Oracle
Advanced trends and analysis for your food intake, nutrient targets and biometrics.
Generate a detailed nutrition report to discuss with your health care provider.
Share custom foods and recipes with friends and family.
Make the Switch to Cronometer
When SuperTracker shuts down,  use Cronometer.com as a replacement to track your food intake, physical activity and more with an easy-to-use interface. This powerful nutrition tracking tool allows you to customize your nutrition goals and monitor your progress over time.
Get started with a free account online https://cronometer.com or download the free Cronometer app for easy on the go tracking.
Any questions? Our prompt customer service will answer your technical questions, just send an email to support@cronometer.com  Visit our Community Forums to discuss nutrition and health topics and find support with other users https://forums.cronometer.com/