I'm Susan Macfarlane and I'm a Registered Dietitian Nutritionist running a busy private nutrition practice in Canada's capital of Ottawa, Ontario. I'm also a nutrition contributor at Cronometer, where I answer all your nutrition and health-related questions in the forums.
In my practice, I am an expert consultant on vegan and vegetarian diets, and specialize in weight management and eating disorder recovery. As such, I spend much of my day conducting food recalls and analyzing dietary records. Although this provides me with valuable information about my clients' dietary patterns and nutrient intakes, the process is quite tedious and time-consuming. And despite feeling knowledgeable and competent in my role, it is difficult to determine the dietary adequacy for all essential forty-ish nutrients from memory. Consequently, I often feel as though I only have a snapshot of my clients' true dietary intake.
One-of-a-kind nutrition software
I have dabbled with various nutrition apps in the past, but am usually underwhelmed by the nutrients analyzed and the databases used. On the advice of a friend, I decided to test out Cronometer for a few days using my own diet and was impressed with the results. Not only did Cronometer accurately predict my calorie and protein requirements, it also looked at essential amino acids, fatty acids, vitamins, and minerals, alerting me to those that were low in my diet. As a result of this feedback, I started adding almonds to bump up my vitamin E intake, and a tablespoon of hemp seeds to bring my ratio of omega 3 to 6 into the desirable range.
How Cronometer can enhance your nutrition practice
Given the benefit I derived from Cronometer, I decided to use the nutrition software in my practice and quickly realized that not only was it saving me time and energy, it was also empowering my clients to make more informed food decisions. Below is a summary of how I am using Cronometer as a dietitian and the ways in which it has added value to my practice.
Visual comparison of energy intake relative to energy expenditure
Cronometer uses the Mifflin St. Jeor equation, with relevant activity factors, to predict estimated energy requirements. In addition, there is the option to track daily and weekly calorie expenditure from structured activity through Cronometer's exercise database derived from the 2011 Compendium of Physical Activities.
A visual depiction of energy intake relative to expenditure can be found beneath the food diary, providing a quick, at-a-glance reference of energy balance.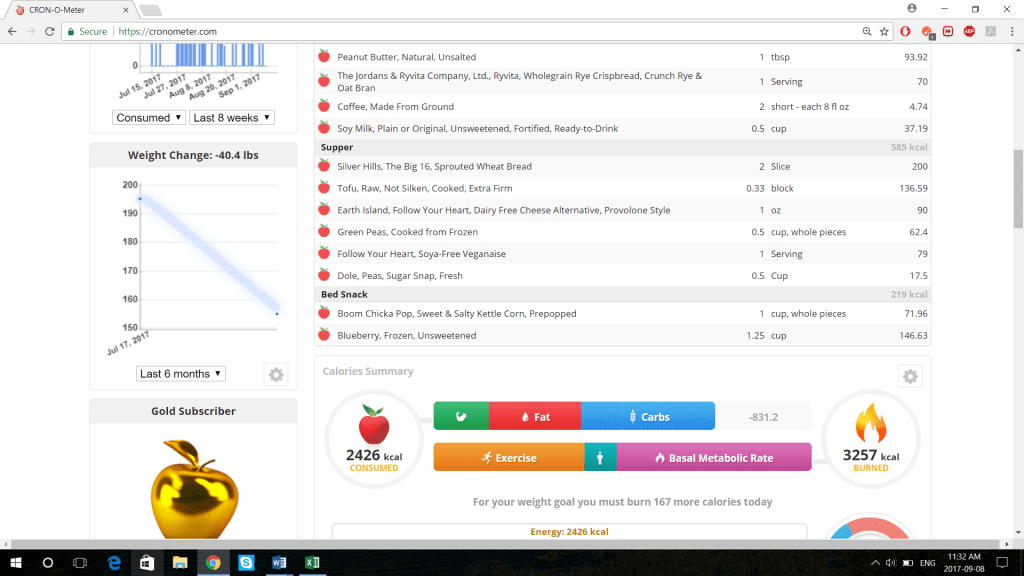 Comprehensive vitamin and mineral assessment
When my clients come to me, they want to know if they are missing any vitamins or minerals from their diet, and if so, how they can add them in. Using Cronometer, I can determine if my clients are at risk of a nutrient deficiency/excess by comparing their intake of essential nutrients to the Dietary Reference Intakes (DRIs). Hovering your mouse over a nutrient allows you to take your analysis one step further and see where the nutrient is coming from in your clients' diets.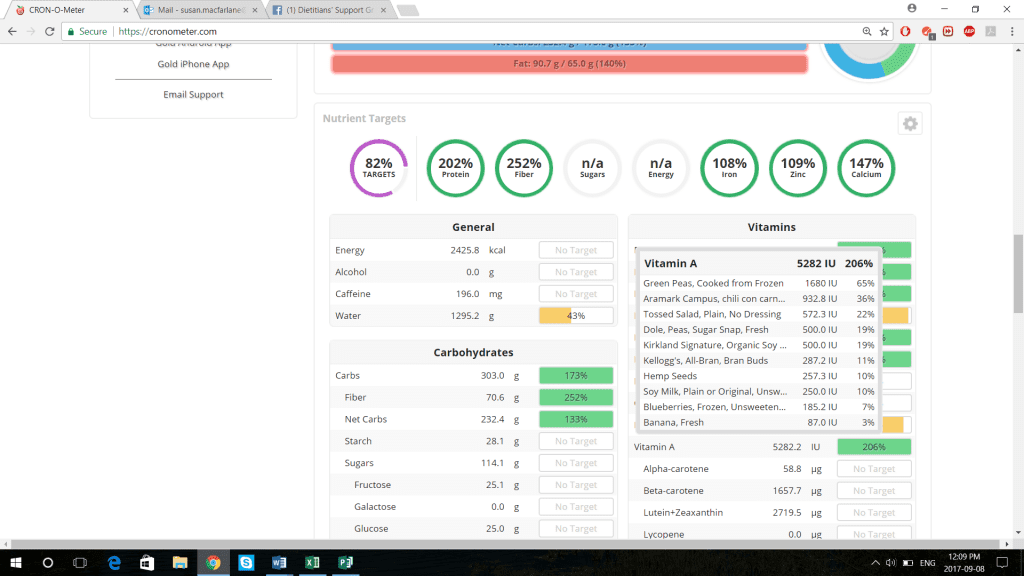 Provides features for special populations
All nutrient targets in Cronometer can be individualized, which is incredibly beneficial when working with clients with unique nutritional requirements. One of my favourite features is the ability to track "Net Carbs" or total carbohydrates minus fibre. This feature has simplified carb counting for my clients with diabetes, helping them to better understand how food influences their blood sugars.
Cronometer also offers the option of tracking as a pregnant or breastfeeding female, with nutrient targets reflecting the increased needs of this population.
Monitoring of biometric values
Cronometer allows for the monitoring and evaluation of important anthropometric and biochemical measures that inform you, as the clinician, if your nutrition intervention is achieving its intended goal. Gold members also have the option of tracking additional biometric values that are relevant to their area of practice.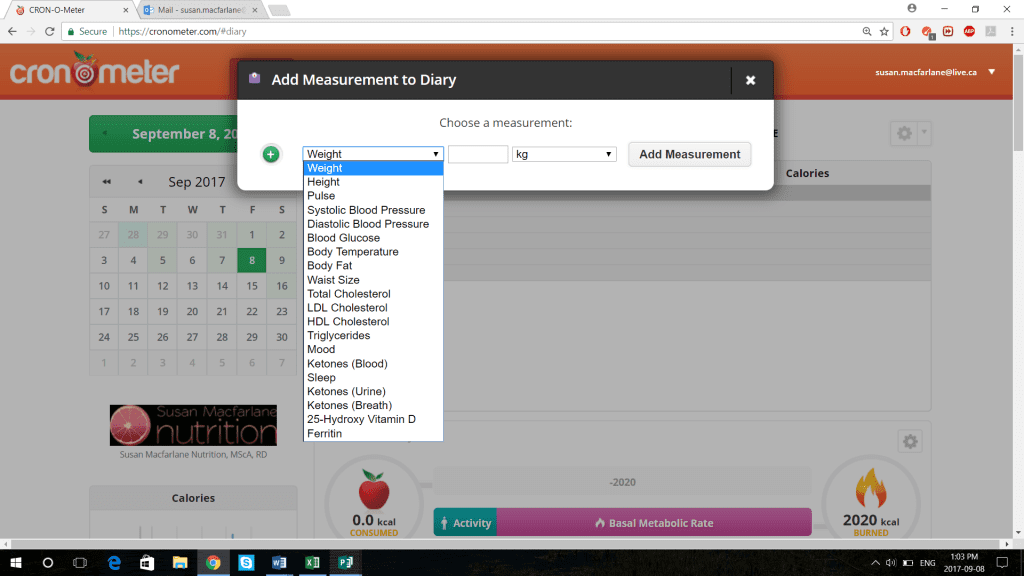 The Professional account takes your practice to the next level
Cronometer recently released their "Pro Account", which has been a game-changer in my practice. As a pro member, I can view my clients' diaries prior to their appointment, generate detailed nutrition reports, and share recipes and foods that I have created in my own diary. Additionally, I have the option of creating accounts that only I can see, which I use for my clients with eating disorders to track their weight progress, biochemical values, and dietary intake.
Your pro account also gives you access to the professional database where you can advertise your services, skills, and areas of expertise to prospective clientele.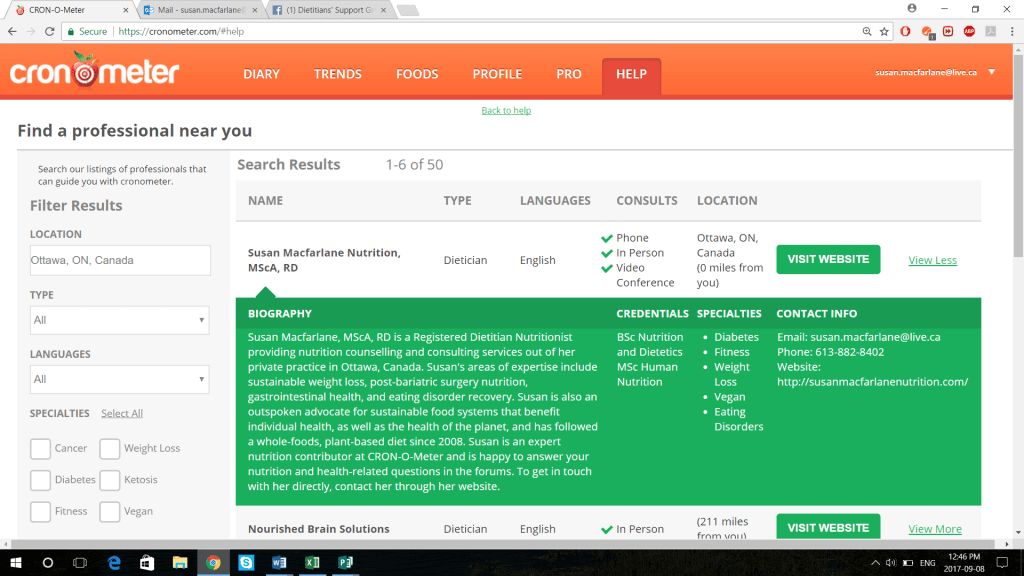 Cronometer empowers your clients
By far the greatest benefit I have seen since using Cronometer in my practice is the change in my clients' eating habits. Knowledge truly is power and my clients report that Cronometer has been an asset in helping them lose weight and improve the quality of their diets.
If you'd like to learn more about my practice and how I use Cronometer, get in touch with me through my website.
And remember to sign up for Cronometer to try it out for yourself