New & Improved: The Latest Cronometer Updates
Whatever the reason you're using Cronometer, we want to make your experience with our app as seamless as possible. So whether you're looking to lose weight, track your macros or micros, time your intermittent fasts, or ensure you're in ketosis, download the latest version of the app to make sure you have access to these new and improved features.
If you have a suggestion on how we can continue to improve the app in future Cronometer updates, please submit your feedback here.
Added new imported metrics for Garmin users. We've updated our Garmin integration to introduce support for a few new metrics. Users can now import blood pressure, heart rate variability, oxygen saturation and respiration rate. HRV, SpO2 and respiration rate are being imported as a time series, so you can click on the entry in your Diary to view a chart of how the metric has been changing over the day.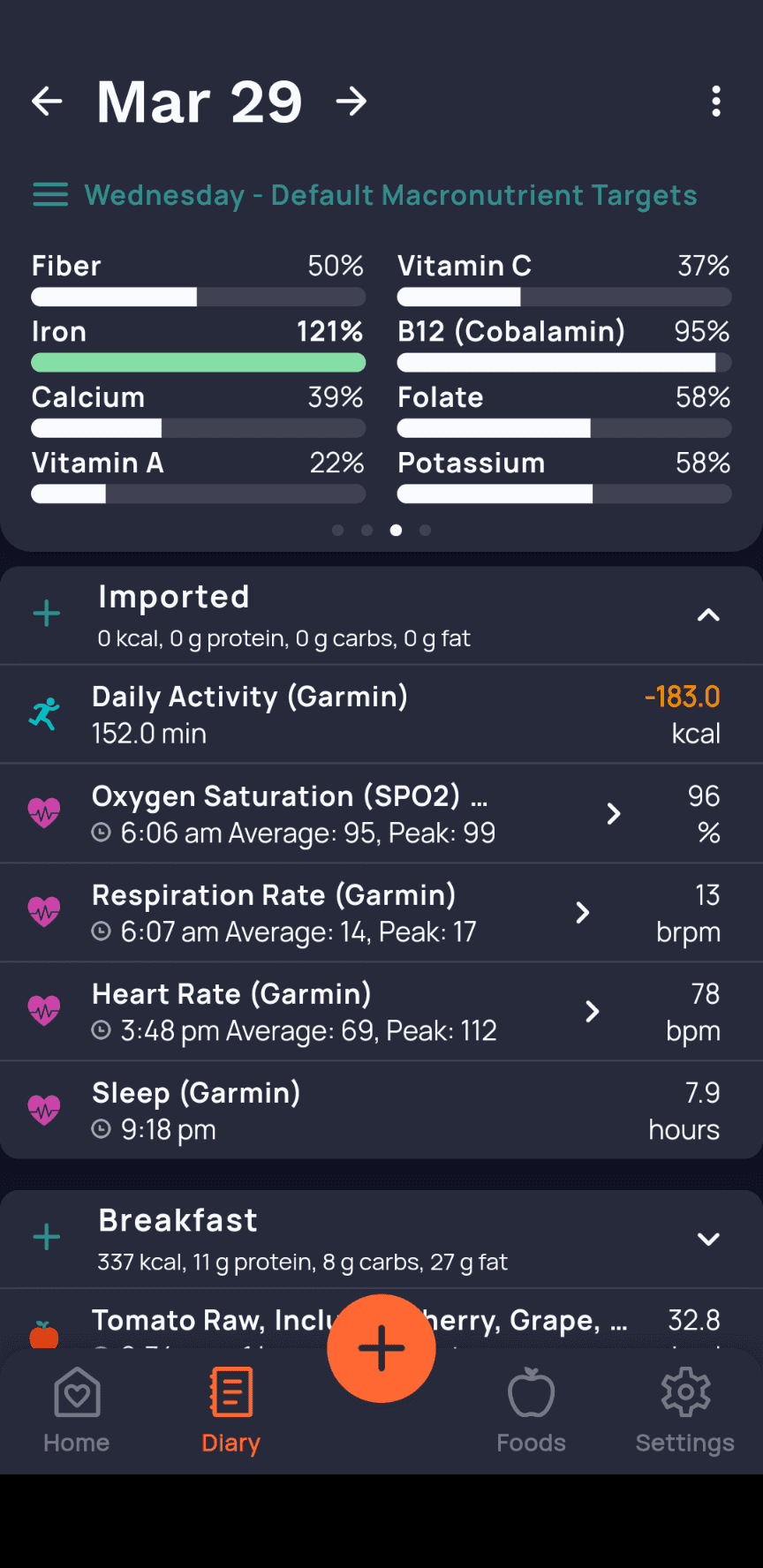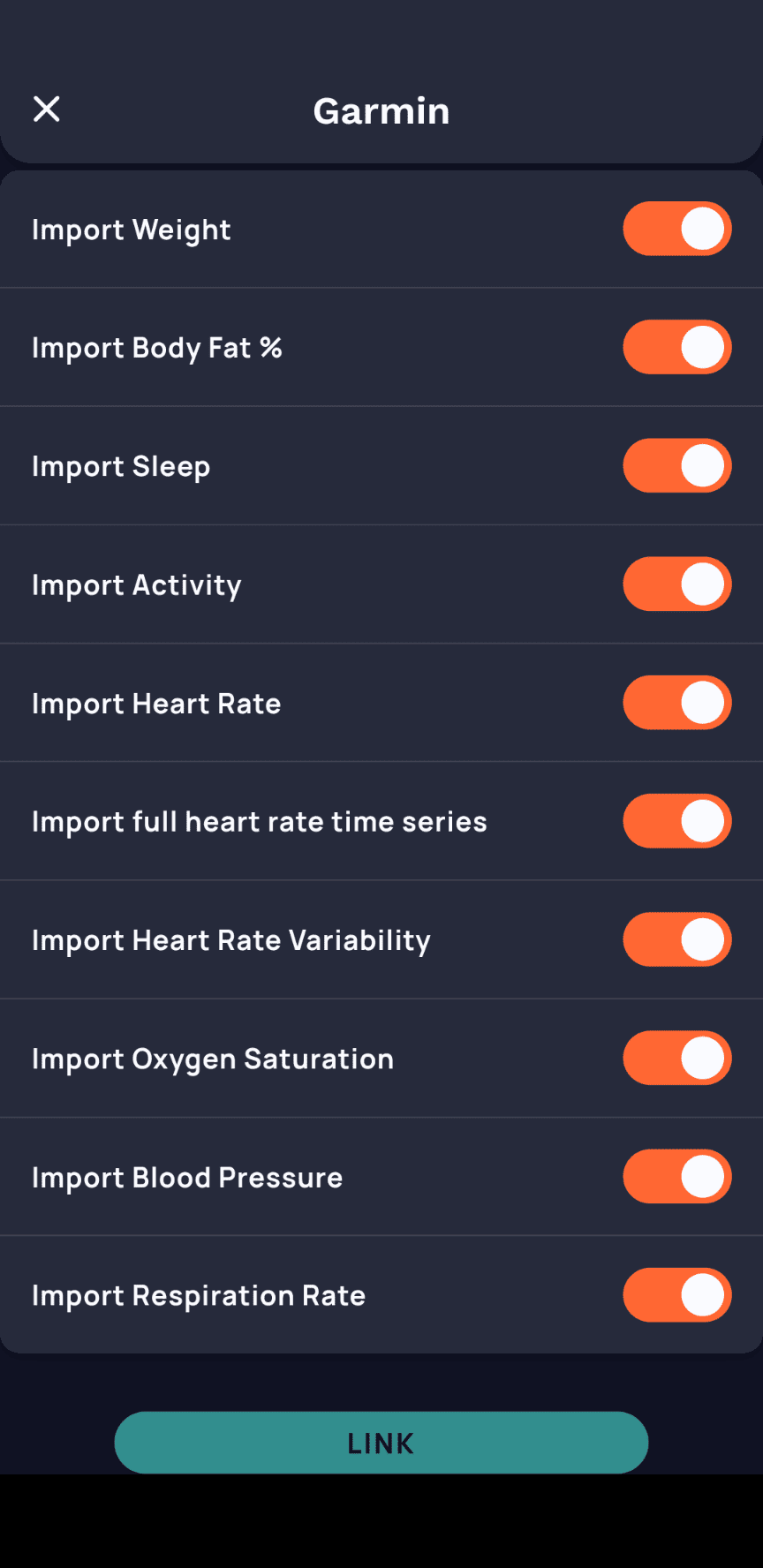 Improvements to custom recipe serving sizes. Both the web and mobile apps have seen some simplification to how serving sizes are selected when creating a Custom Recipe. Users can continue using all previous Custom Recipe functionality by selecting the 'Advanced Servings Sizes' option.
Improved the Recipe Importer algorithm. We've retrained our algorithm for the Recipe Importer so some Gold users may notice a better success rate matching ingredients when importing a recipe.  
Bug fixes.

Improvements to the fasting feature! Both the web and mobile apps have seen some big user interface changes to our fasting feature including the ability to schedule recurring fasts and options to have it show on the Diary screen and/or the Dashboard. Find more information here.
Pickleball added to the exercise database. Pickleball athletes can now choose the sport directly from our exercise database. Find it in the team sports category.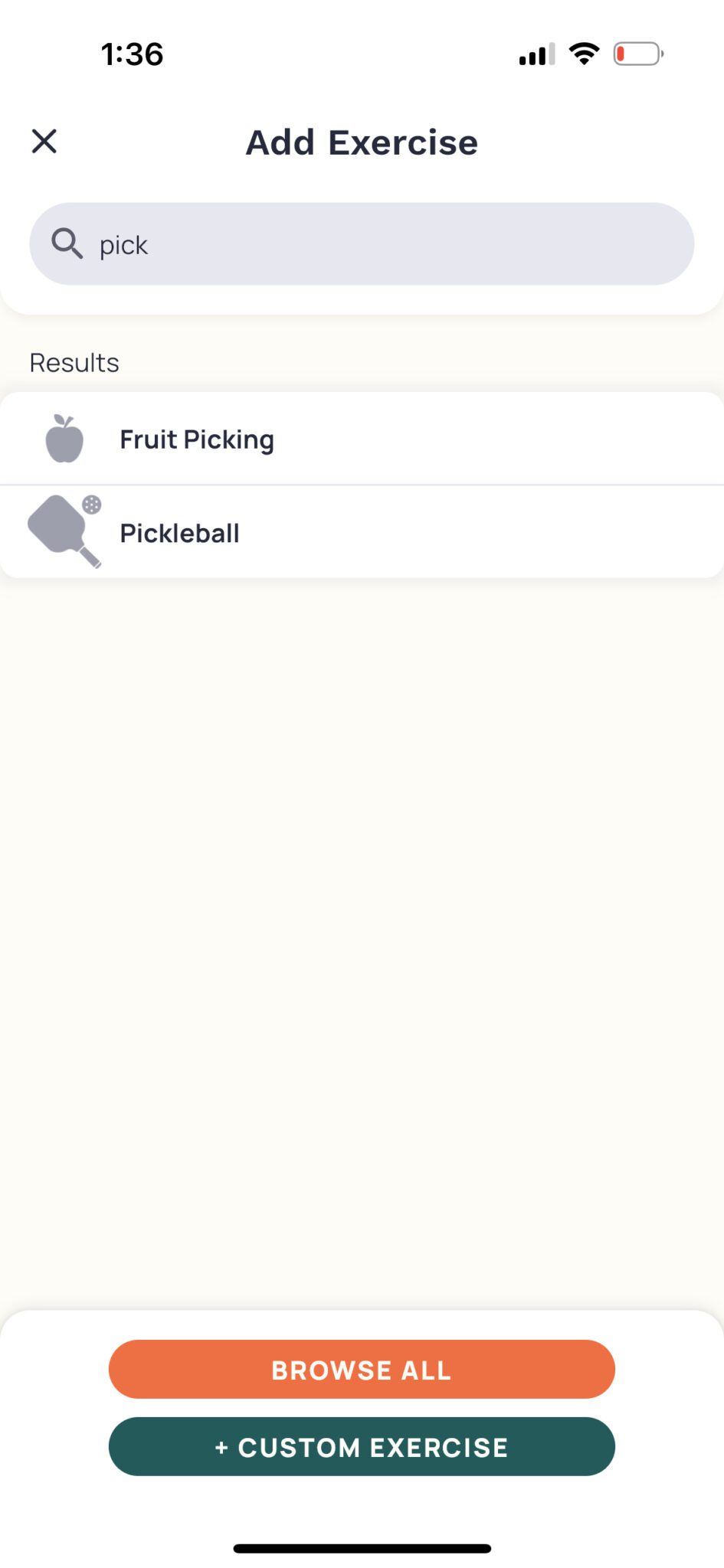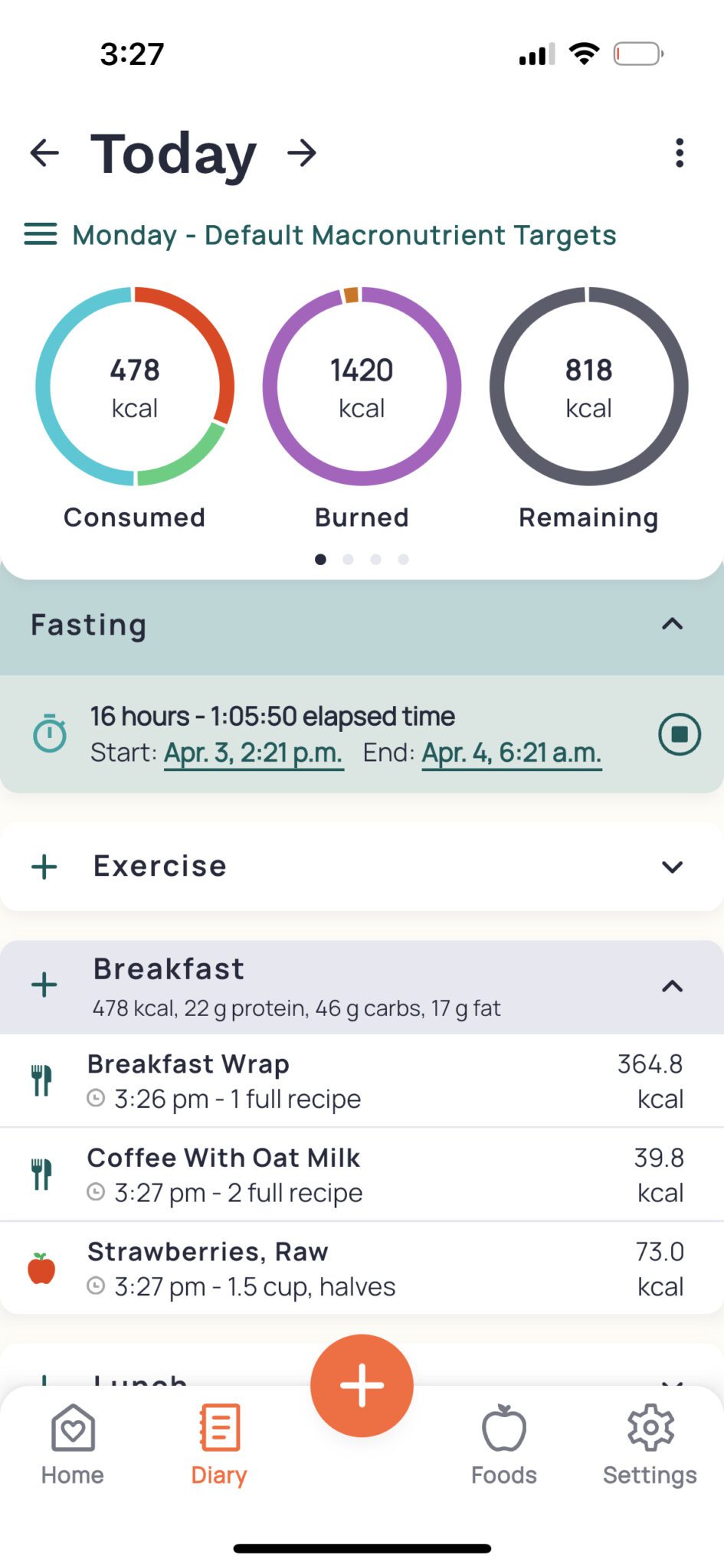 Bulk delete data! Users can now choose to delete their food, exercise, biometric, fast and note data in bulk for a specific date range. Navigate to settings > account > account data and select Bulk Delete Diary Data.
Improvements to the foods page. We've made some UI changes to the Foods page which simplifies the experience of creating, searching for and logging custom foods and recipes. Also our entire food database can now be searched from the Foods tab.
Show a chart on your dashboard. On the mobile app, there is now functionality that allows you to save a chart to your dashboard. From the Home tab, click Charts, scroll down to a chart, and tap on the arrow in the top corner. Scroll down and toggle on 'Show on Dashboard'.
Added undo prompt upon deleting an entry. In case the swipe to delete action was done by mistake, users will now see a green 'undo' option after they've deleted a food, exercise or biometric entry on the diary.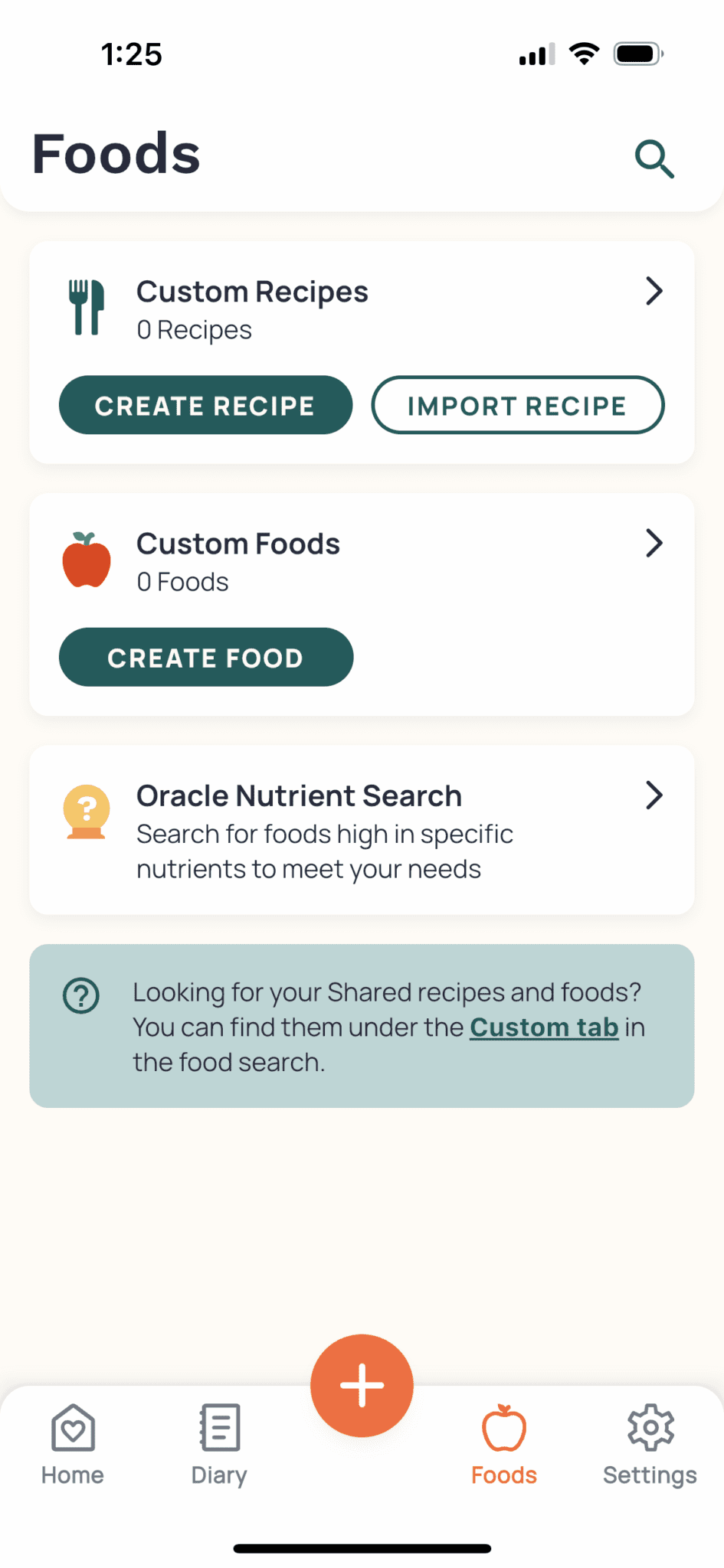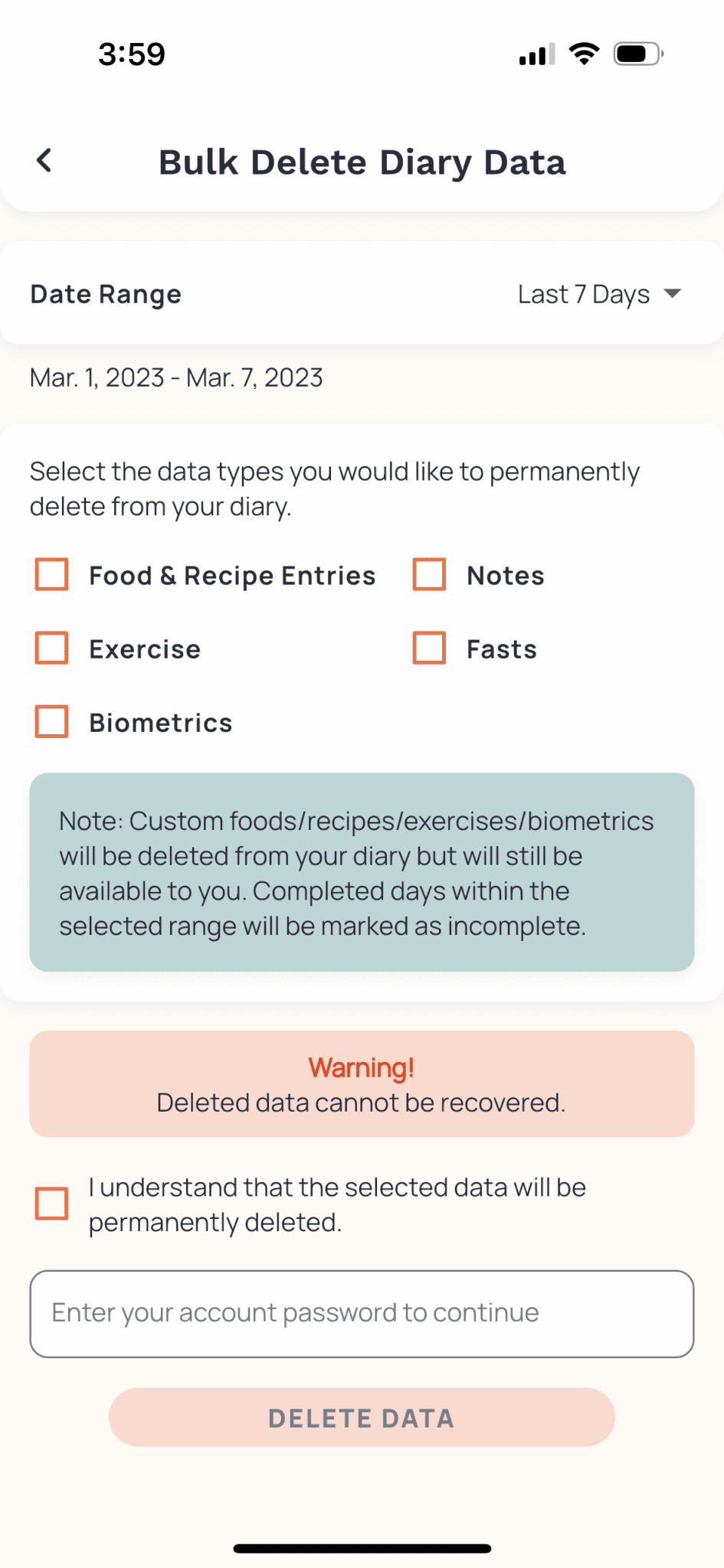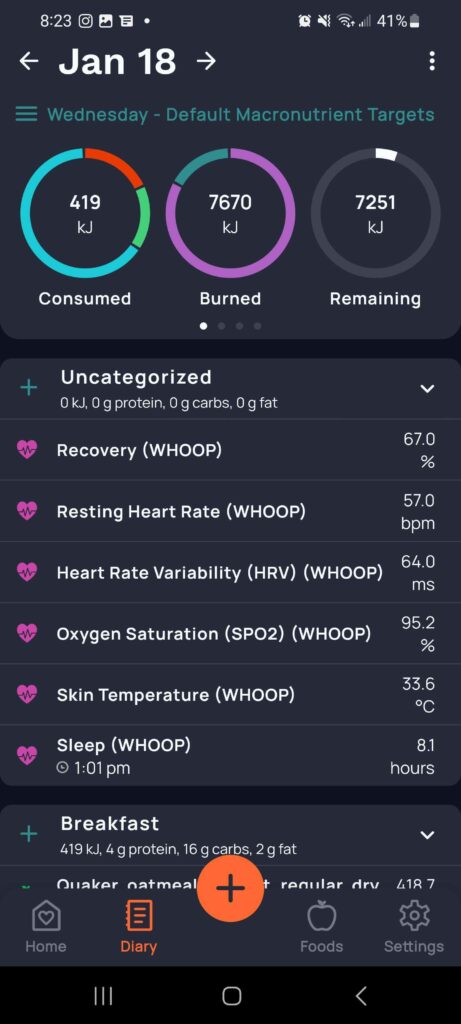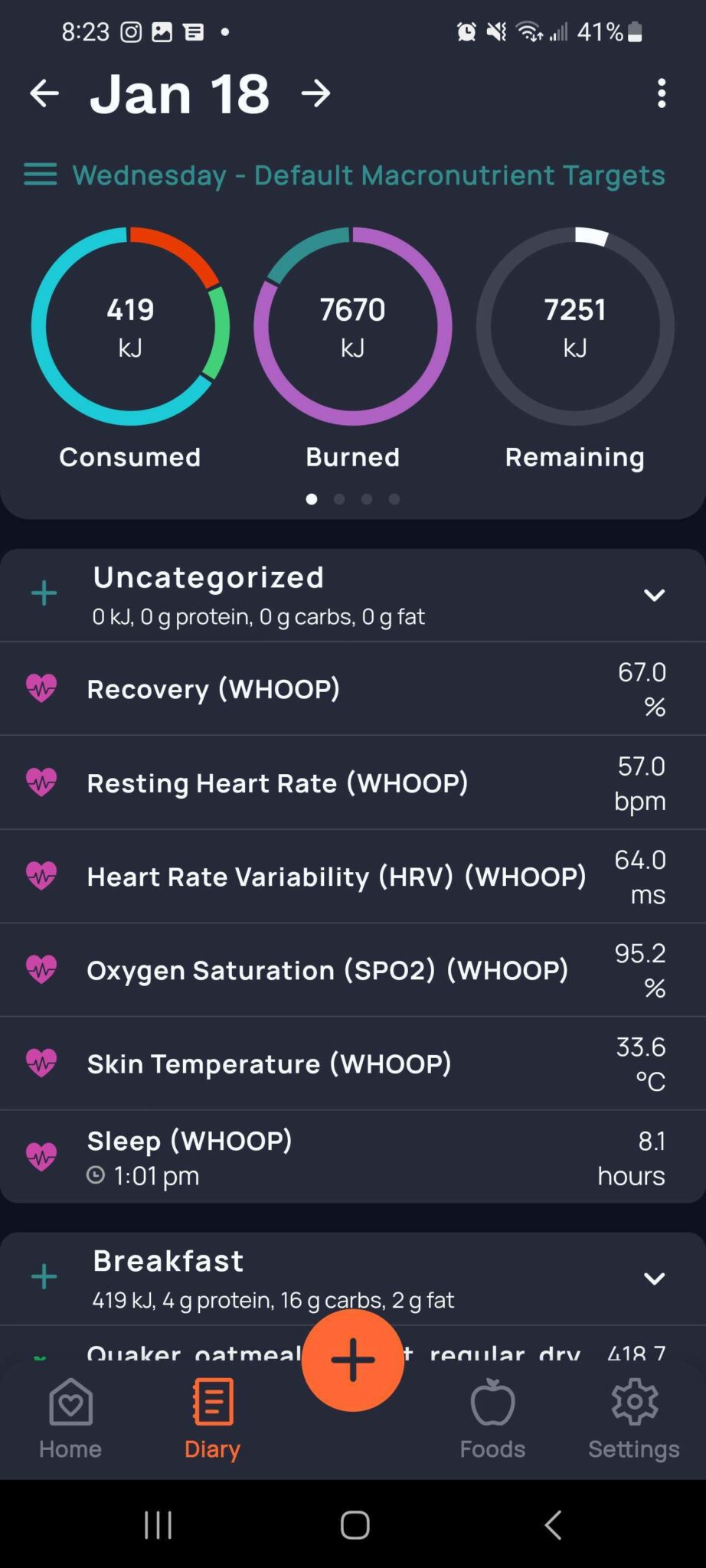 Introducing a streak widget! We've introduced a new streak feature showing users their current streak, longest streak and all-time stats. Users can find this new widget on the Dashboard on web or the Home screen of the mobile app.

Bug fixes & design updates.
Timestamps now included on nutrient charts! Gold users will now be able to see a more detailed breakdown of their timestamped data on any nutrient chart. This will come in handy for those who are taking advantage of our Dexcom integration, allowing them to plot nutrients against their blood glucose data with timing down to the minute!

Upgrades to software packages.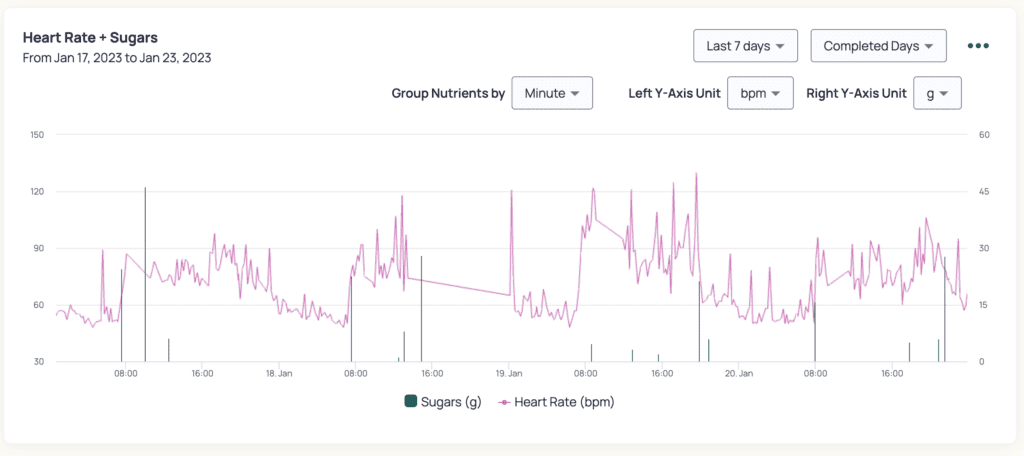 Better, more accurate data! Users will now have access to more nutrition data for branded products with our new better alternative data solution. We will now automatically complete nutrient profiles for many branded foods with lab-analyzed data where applicable. You'll see a message on the nutrient summary of the foods which have been filled with additional data.
Bug fixes & design updates.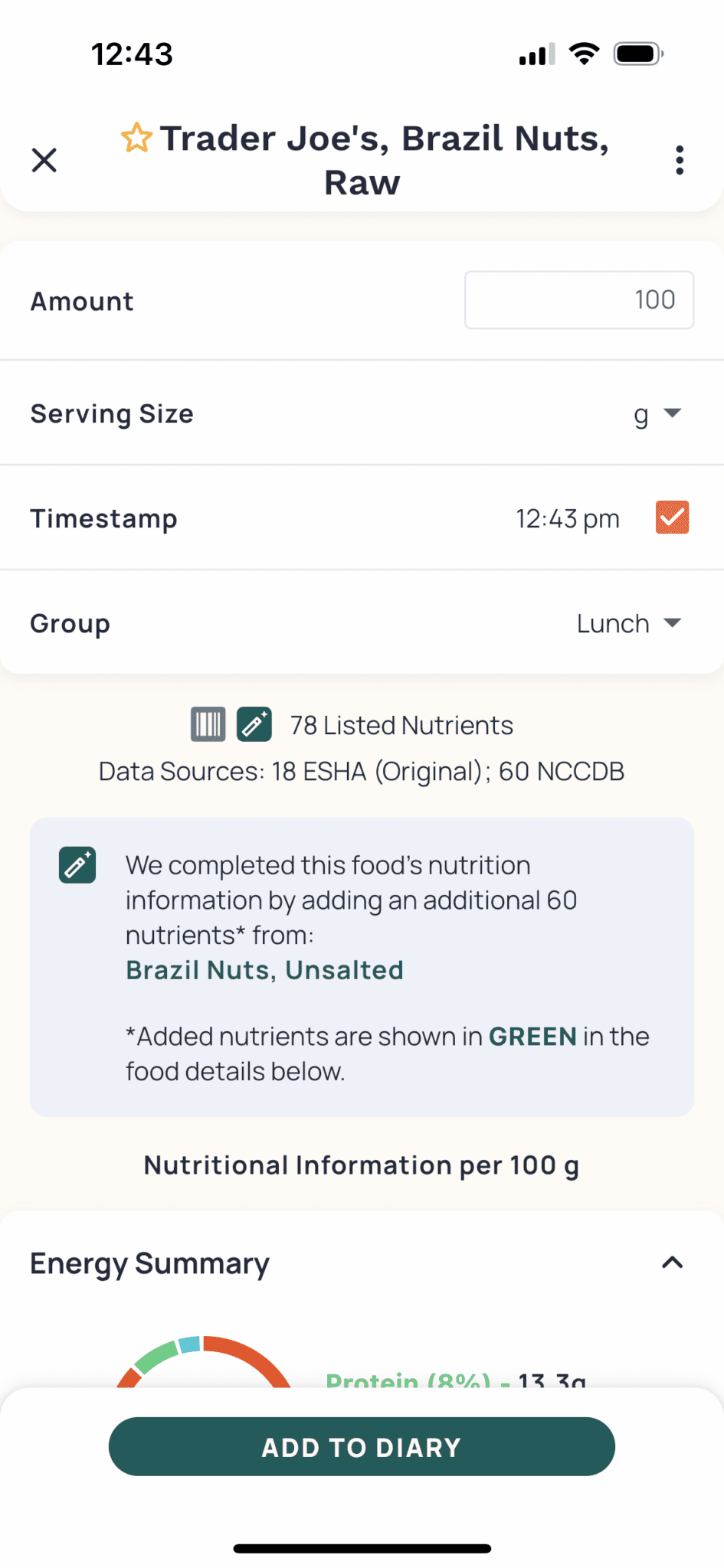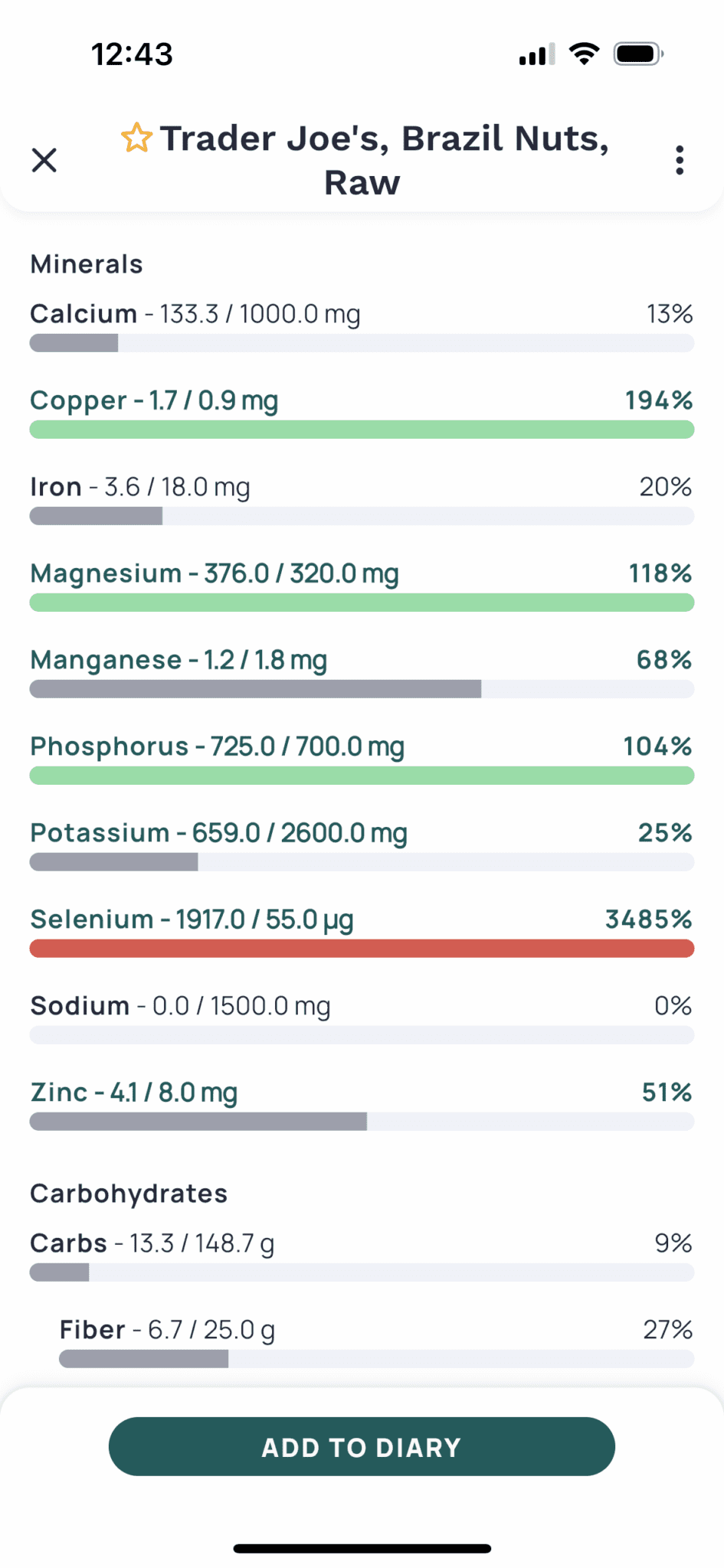 Introducing our new look! We've changed our logo and given both the mobile and web apps a facelift. Find more details about our new look here.
Introducing a dashboard area: there is a new dashboard page on both the mobile and the web app. For the initial launch, users will be able to choose to show their energy history, their fasting history and/or their weight change chart. The dashboard will also show relevant news and updates, is fully customizable and we plan to add more dashboard functionality in the near future. Visit our user manual for detailed instructions on web and on mobile.
Diary group subtotals on web: gold users will now notice that they have diary group subtotals on the web app. Choose to show your macronutrients, calories or to match what you've chosen to show in the summary column.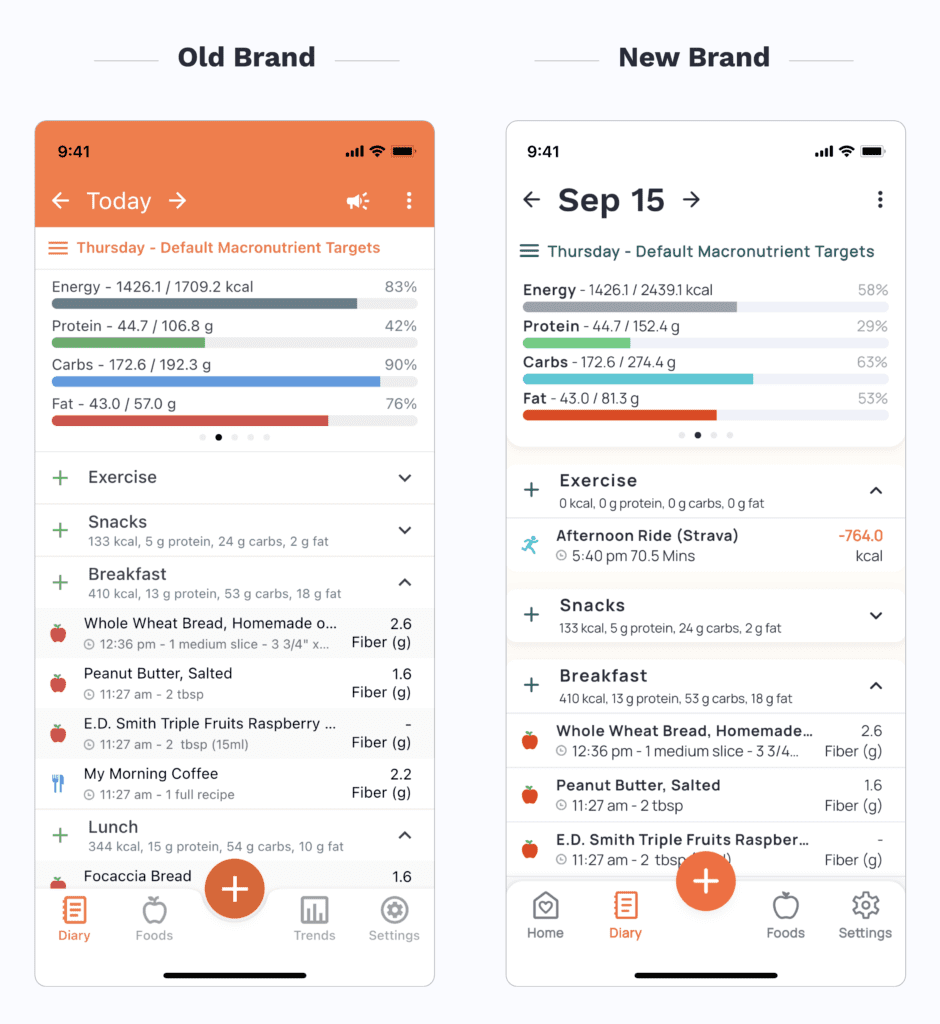 New Integration With Suunto: you can now sync your Suunto device to import exercise and daily active energy directly into your Cronometer account.
New Way To Edit Recipes: you can now edit a Custom Recipe directly from your diary screen! Edit serving sizes and add/remove ingredients without leaving your diary.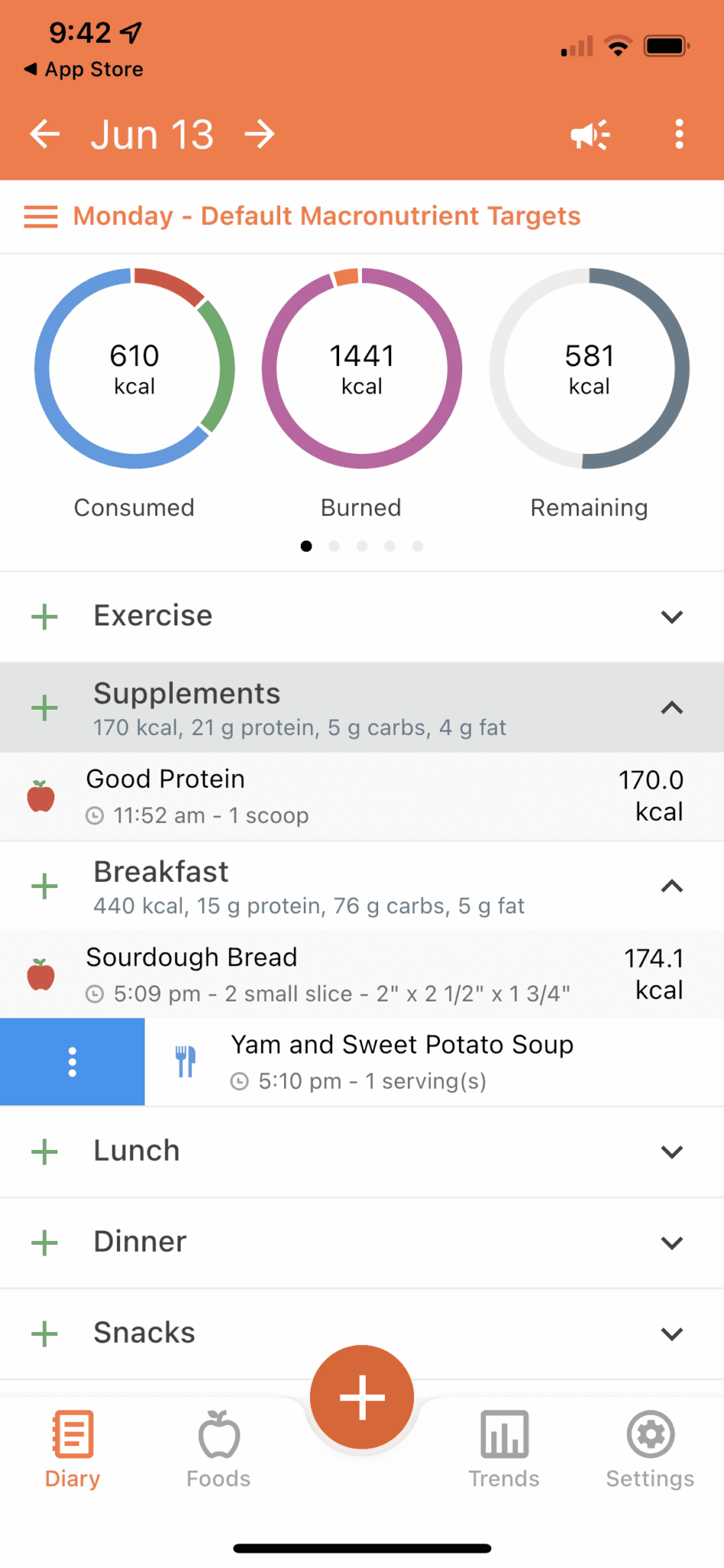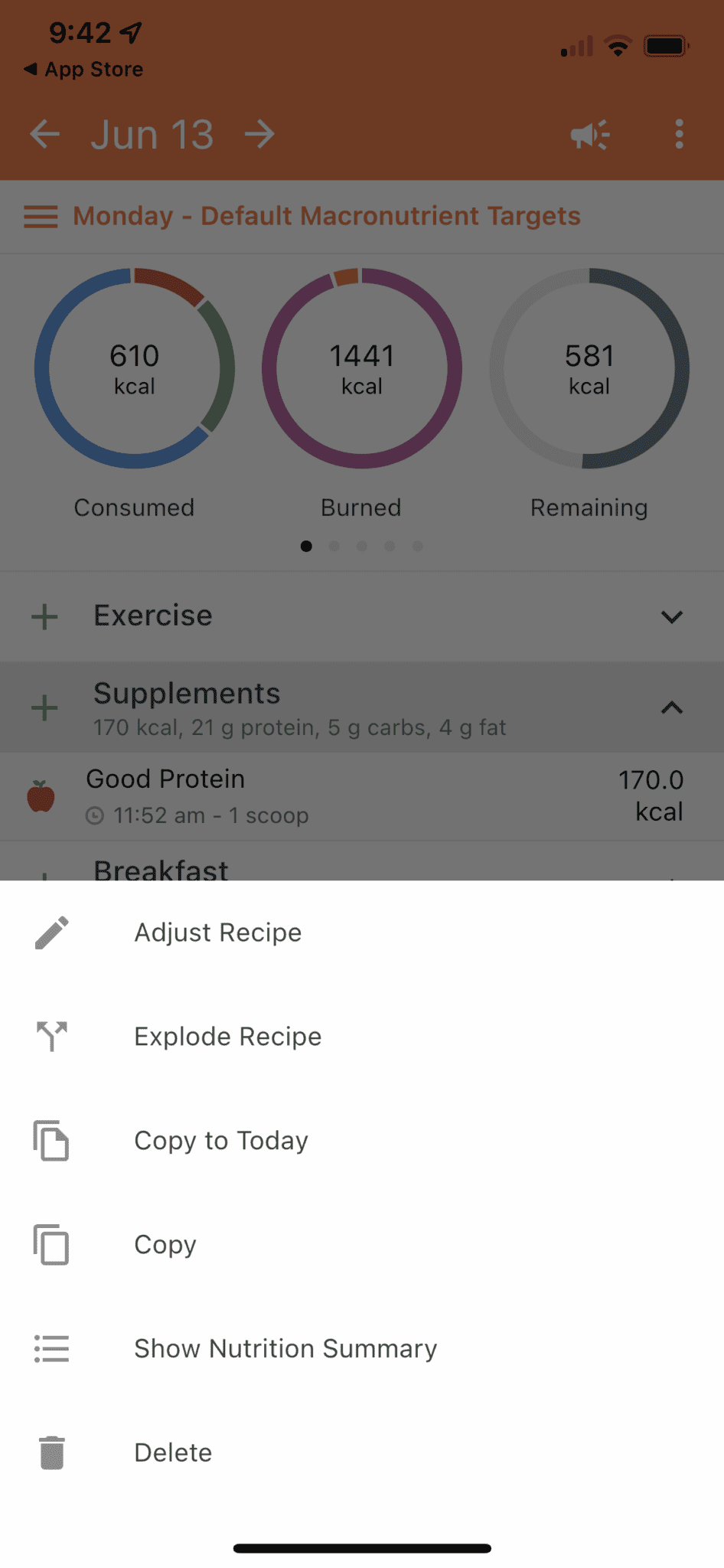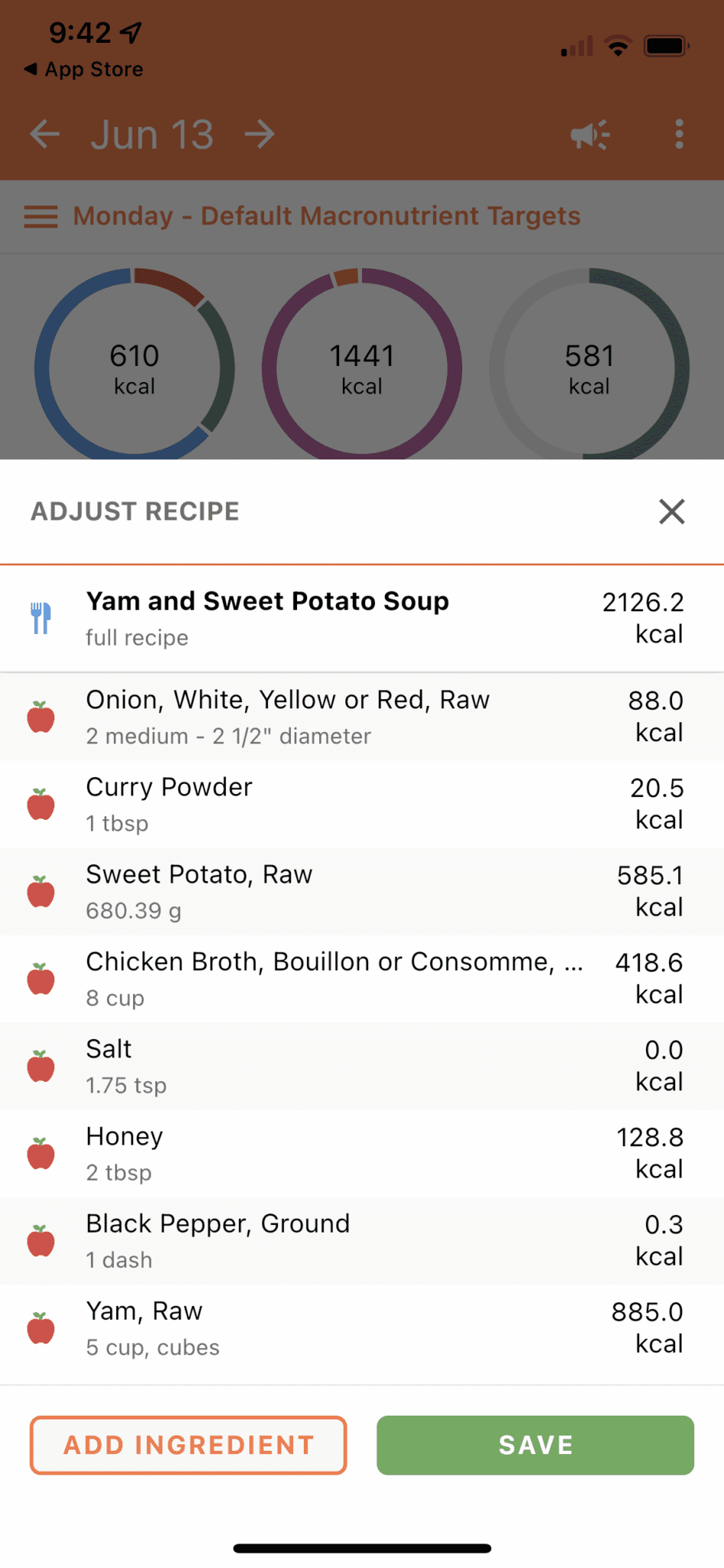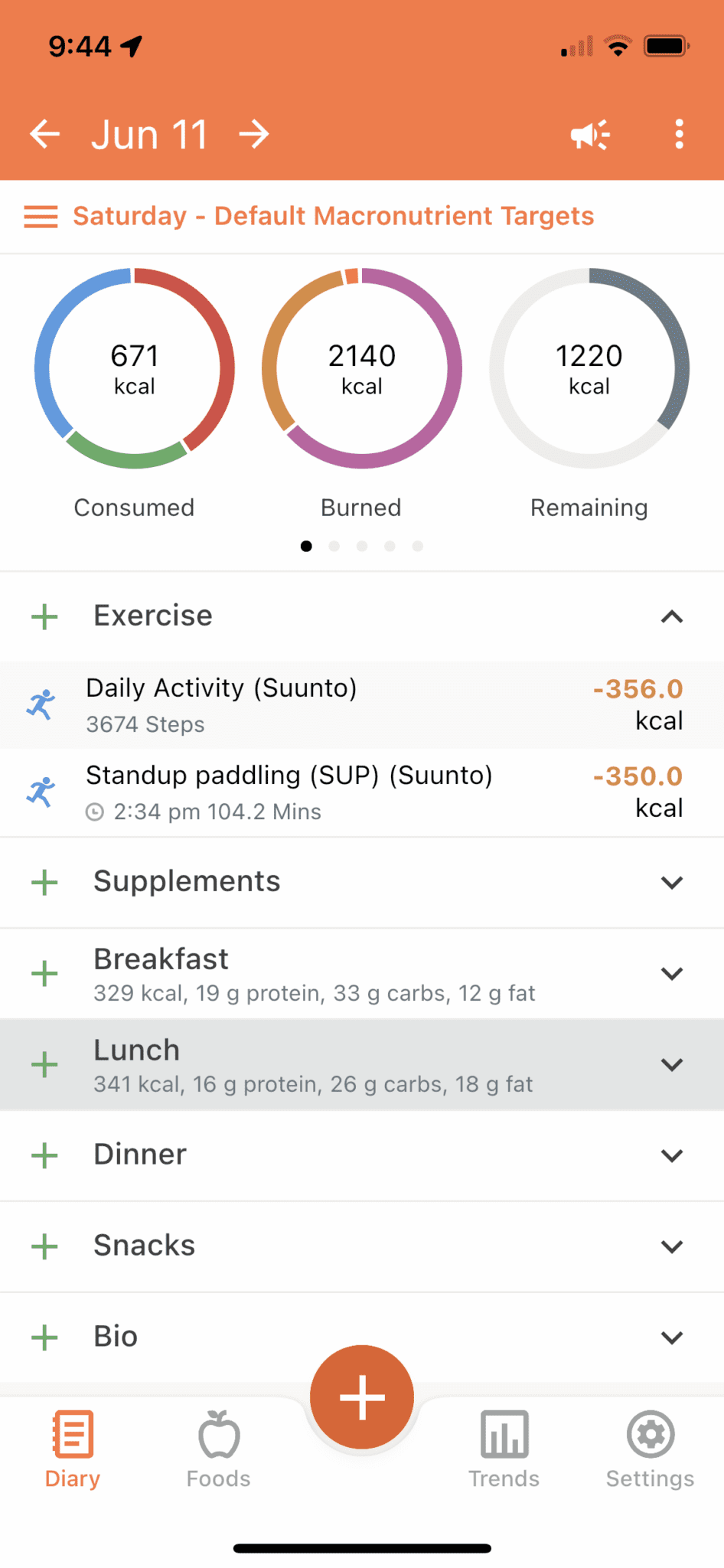 Introduced An Apple Watch App: we've introduced an apple watch app where you can scroll through a snapshot of your energy intake, remaining energy, highlighted targets, nutrition scores (for gold users) and more right from the comfort of your own wrist.
Added New Biometrics: we have added a few new biometrics available to all users such as neck size, thigh size, bust size, calf size, upper arm size, forearm size, wrist size, hemoglobin, hematocrit and heart rate variability.
Men's Health Nutrition Score Available To All Free Users: in order to celebrate Men's Health Month, we have made a men's health Nutrition Score available to all free users for the month of June.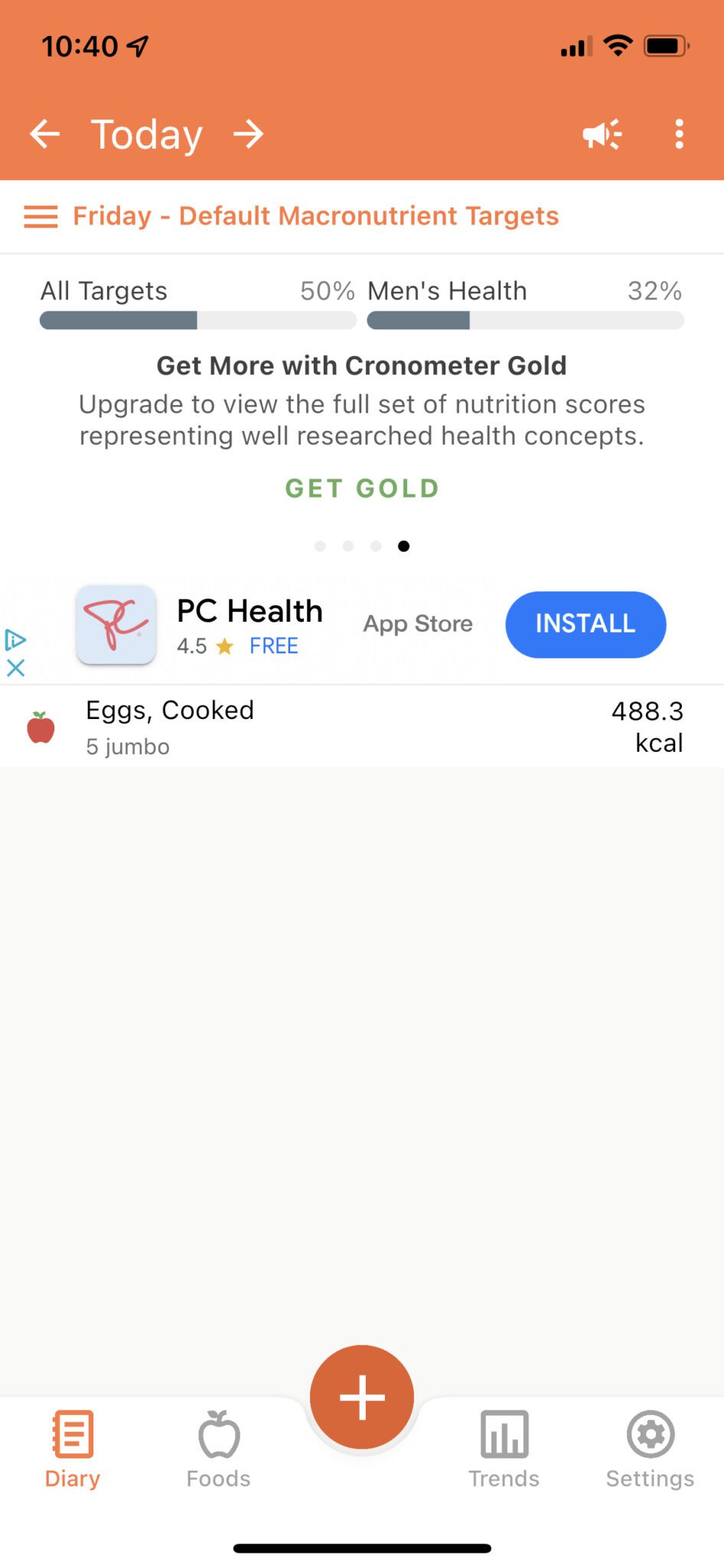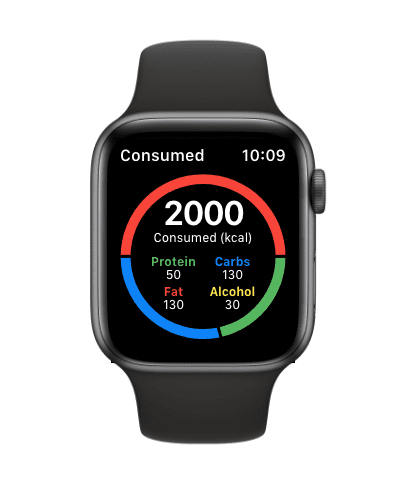 Introduced A Newsfeed: we've introduced a newsfeed area into the app where users can find information on recent app updates, tips & tricks, nutrition info & more.
Improvements To Imported Biometrics & Charts: we have added a new feature to our charts that gives users the ability to click on a heart rate or blood glucose reading in their diary to view continuous readings along with a detailed breakdown of that biometric over time.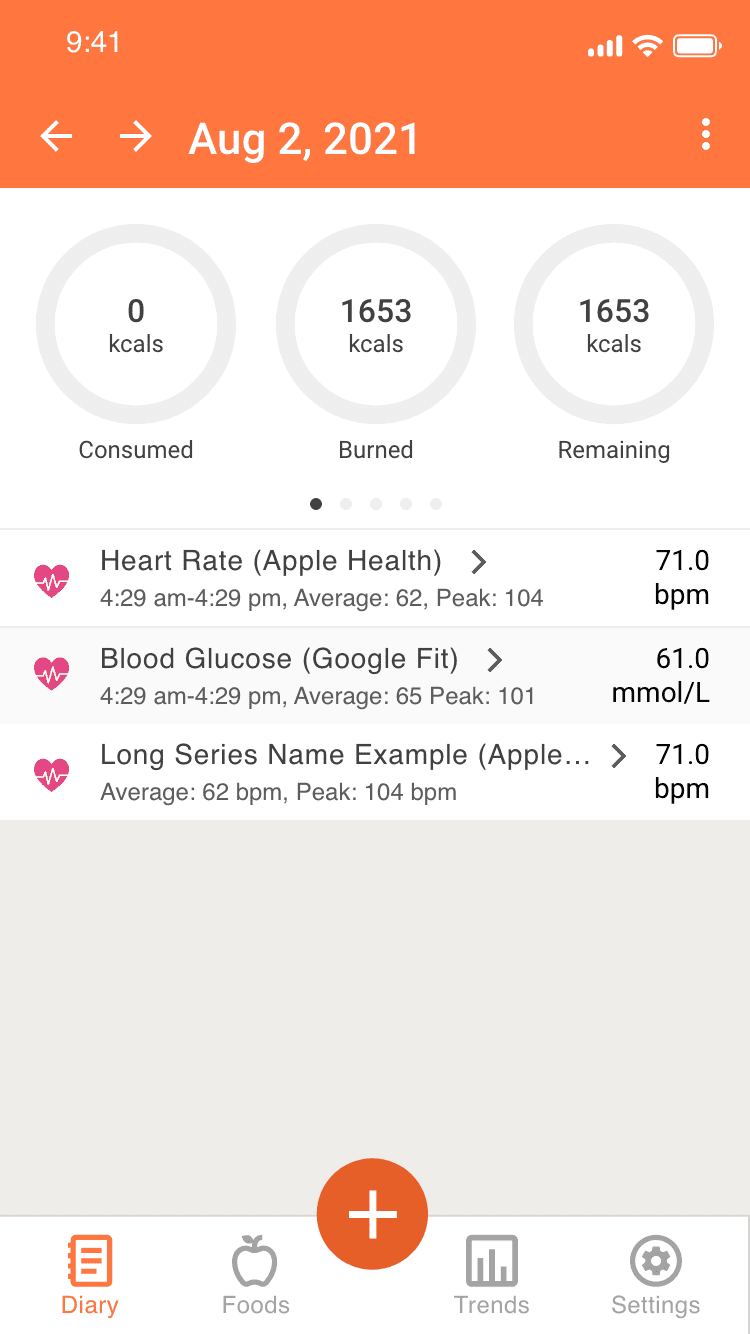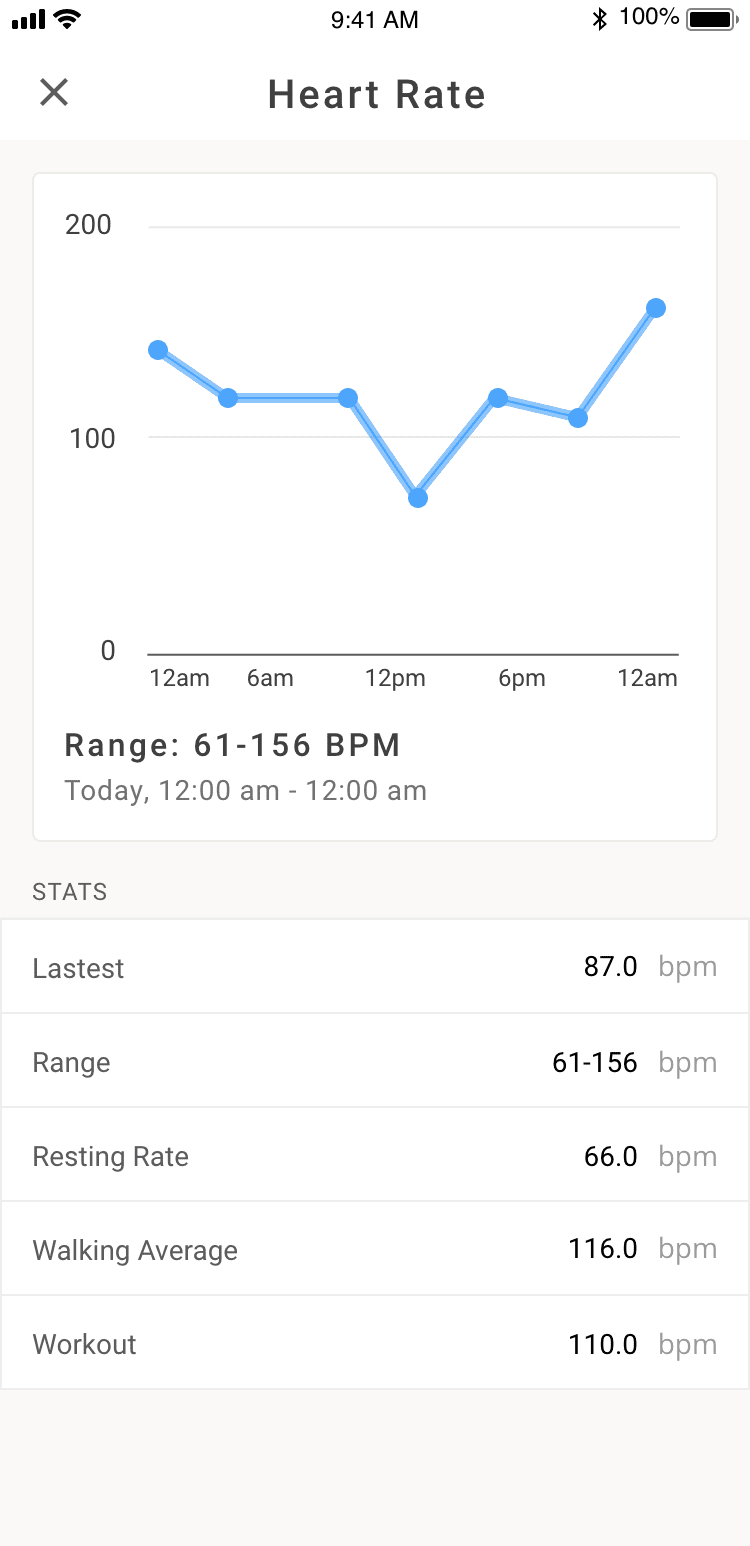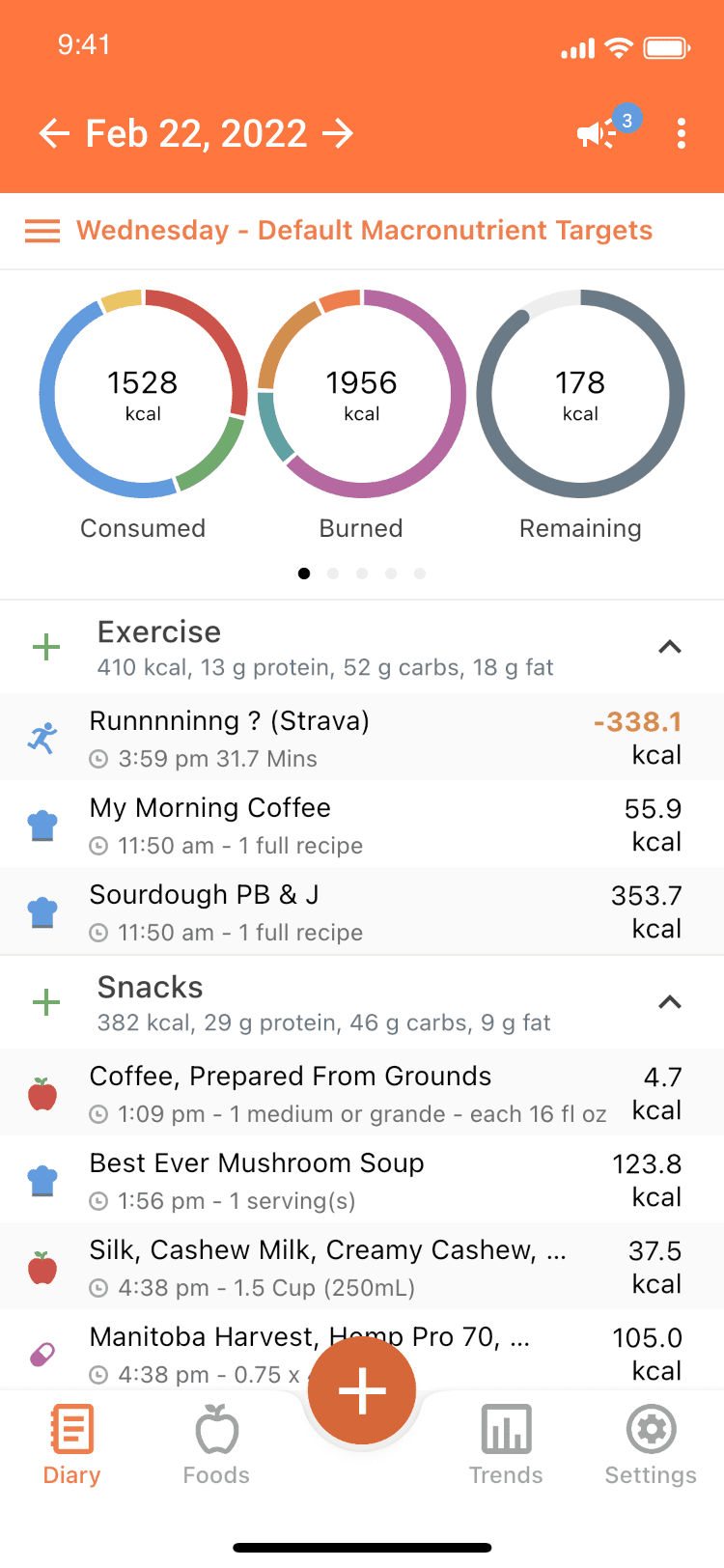 Women's & Men's Health Nutrition Score: Gold subscribers can now take advantage of two new nutrition scores focused on women's & men's health!
Privacy Policy & Terms Of Use Updates: we've updated our privacy policy and terms of use.
Plant Based Nutrition Score: Gold subscribers can now take advantage of a new plant-based diet nutrition score.
Keto Nutrition Score: now includes suggestions for how users can improve their score.
Date Format & Calendar Updates: our date formatting has been updated and our calendar view now clearly indicates which days you have logged food, exercise and biometrics.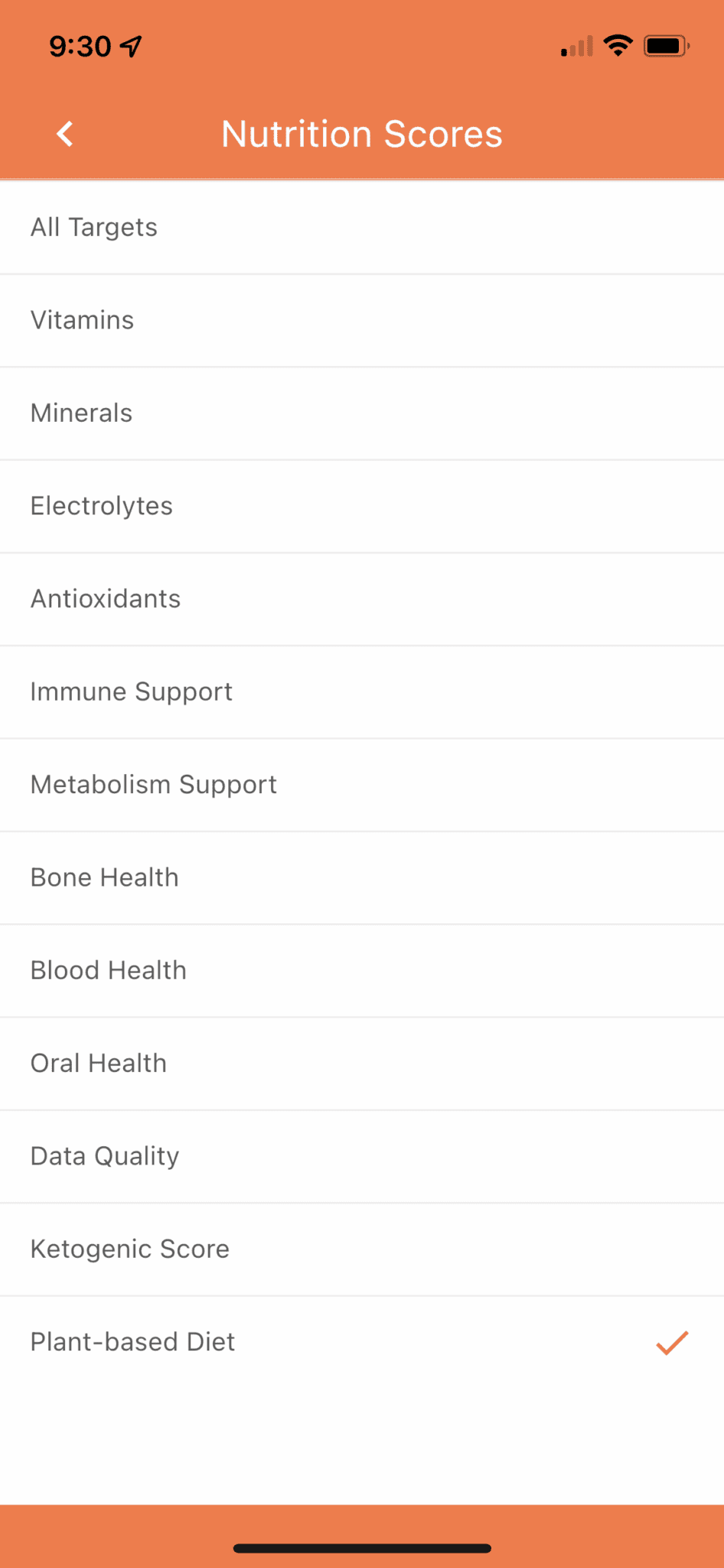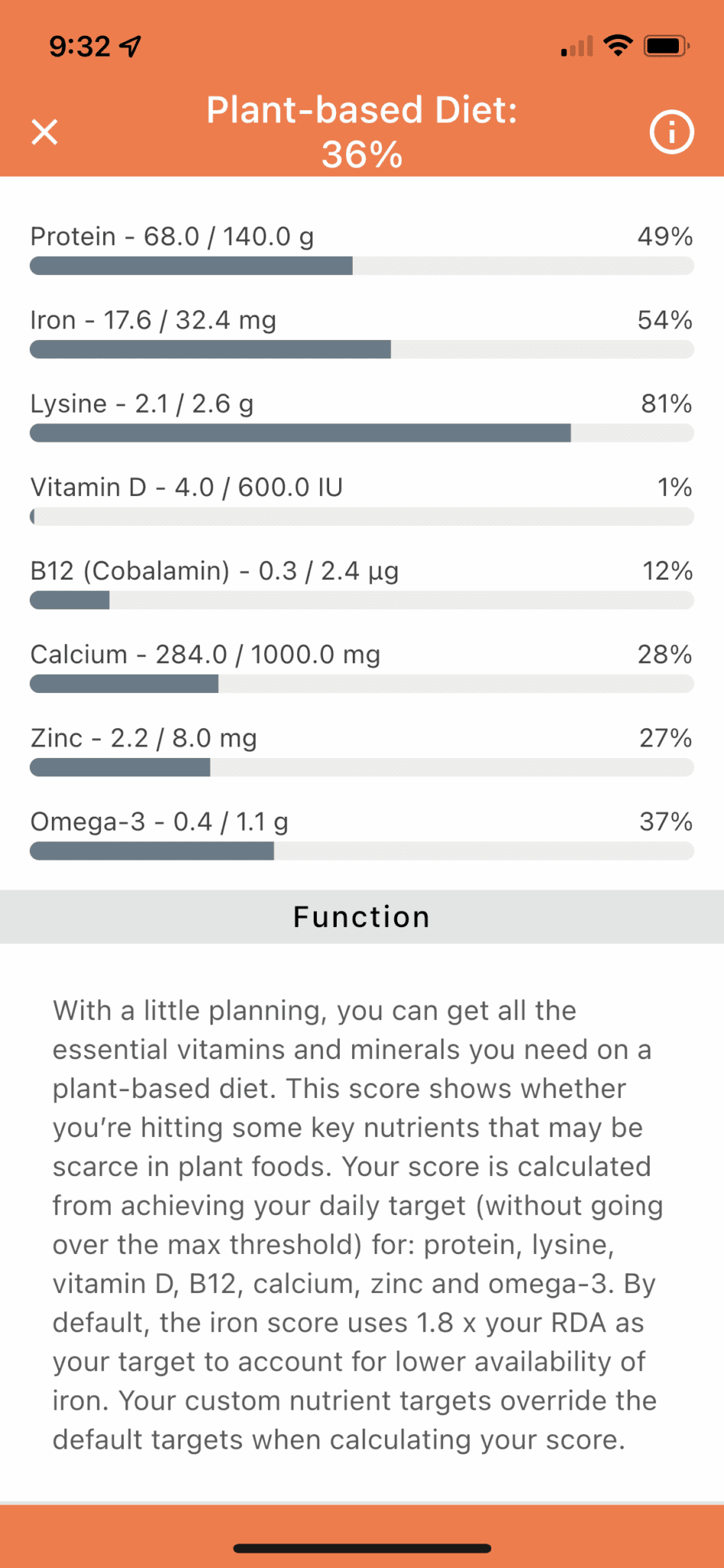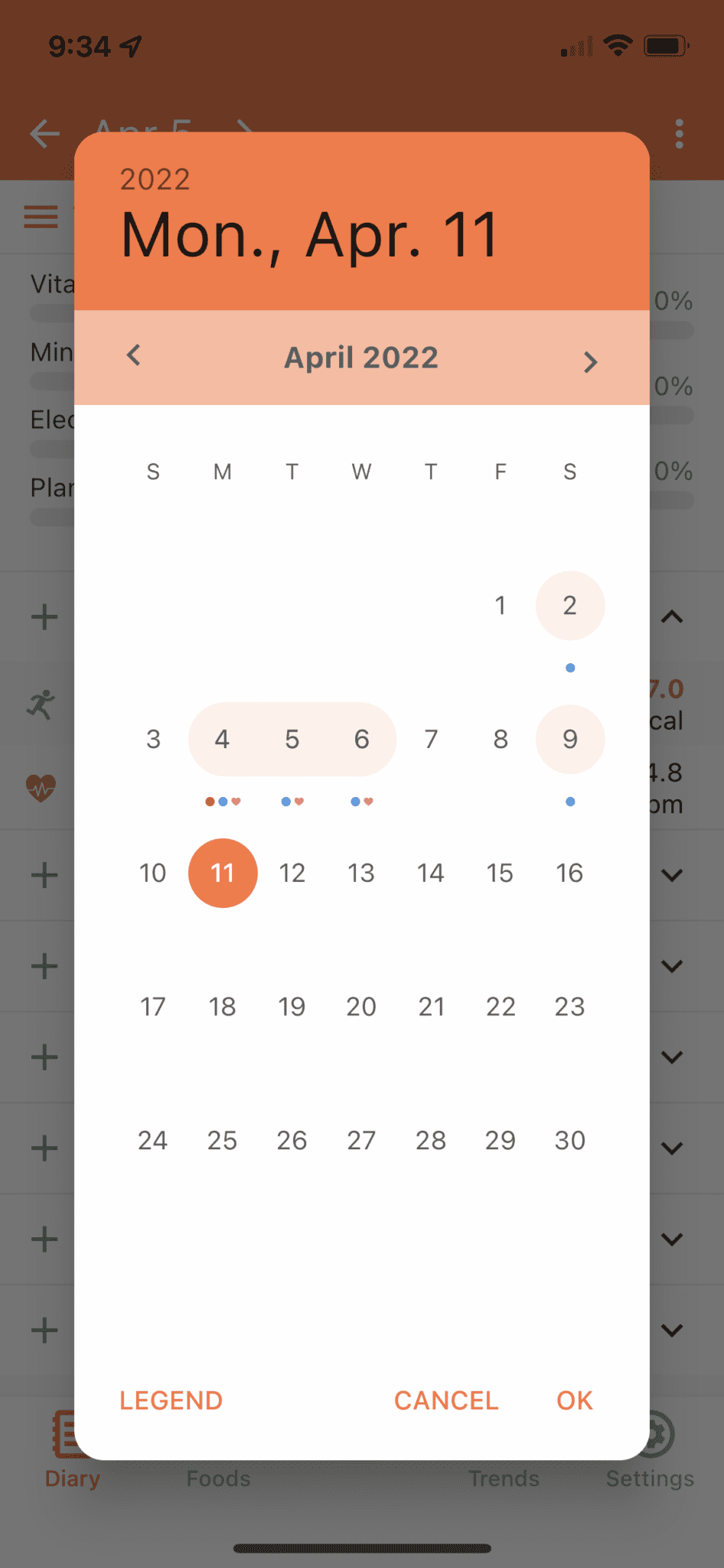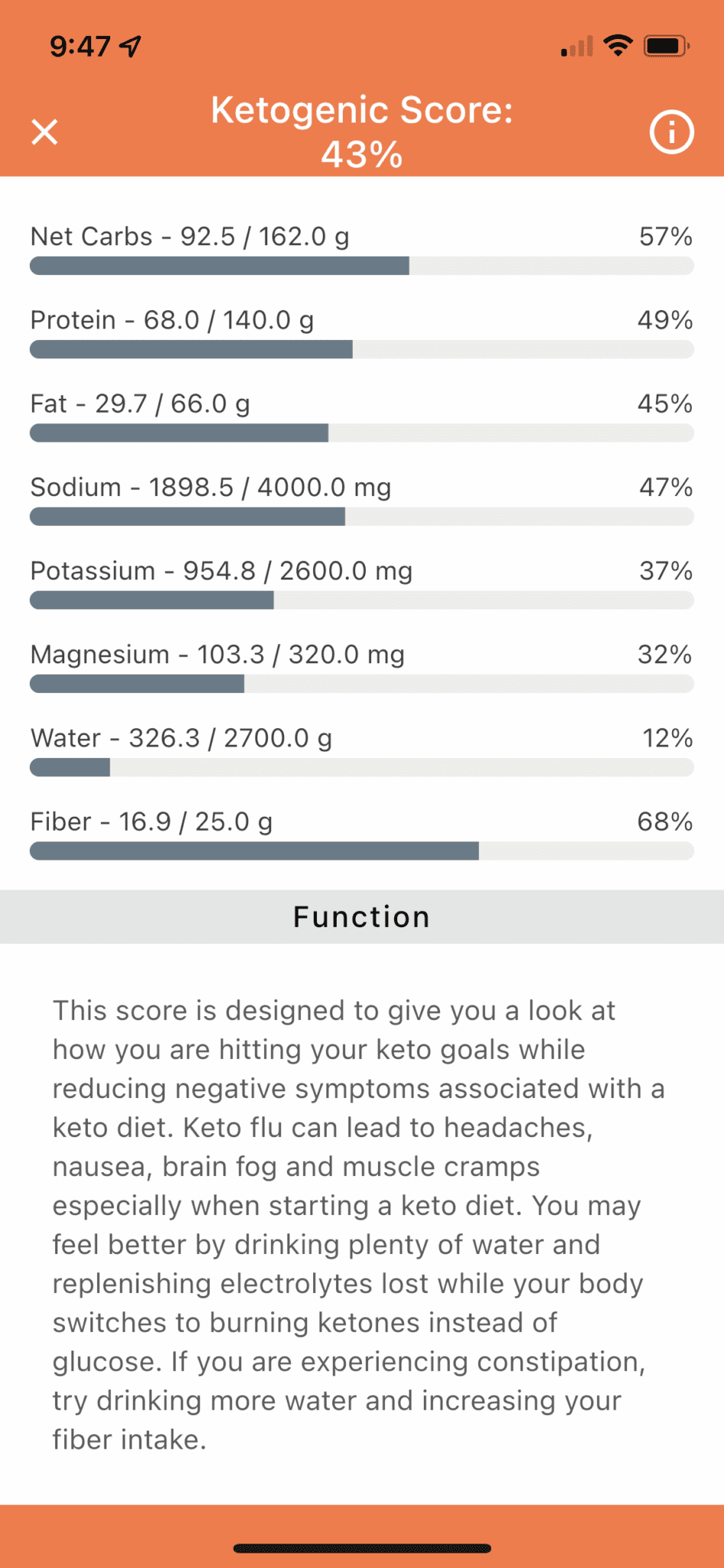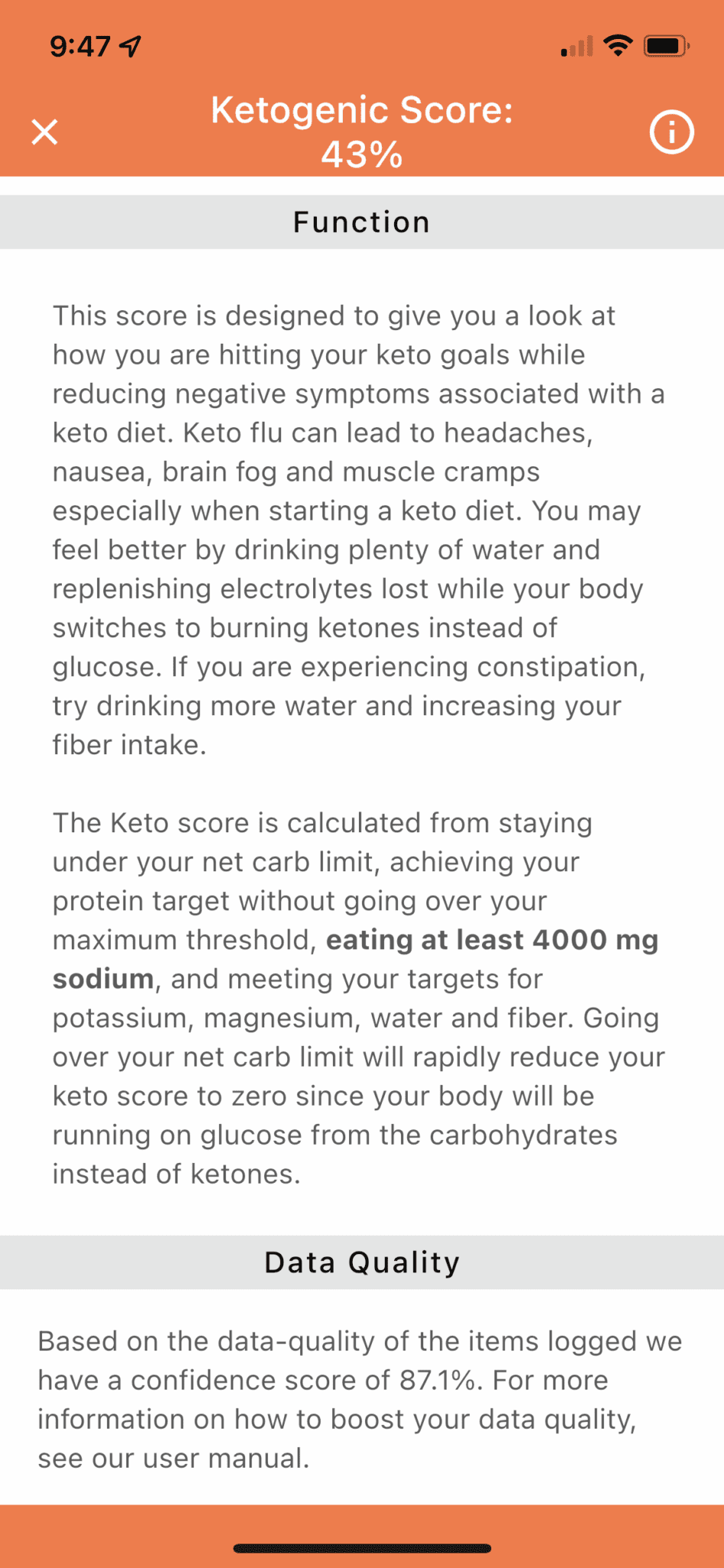 Optimizing Active Energy Import: to ensure you're not double counting calories burned, you can choose to replace your activity level energy with imported activity as it imports throughout the day.
iOS Quick Actions: in addition to iOS home screen widgets, we've now added iOS quick actions! Long tap on the Cronometer app icon in your home screen to access shortcuts for adding a food, scanning a barcode. 
Settings Page Redesign: the Settings page in the app has gotten a revamp. Settings are now easier to find and are searchable. 

Food Search Improvements:

you now have some new options to fine-tune your food searches.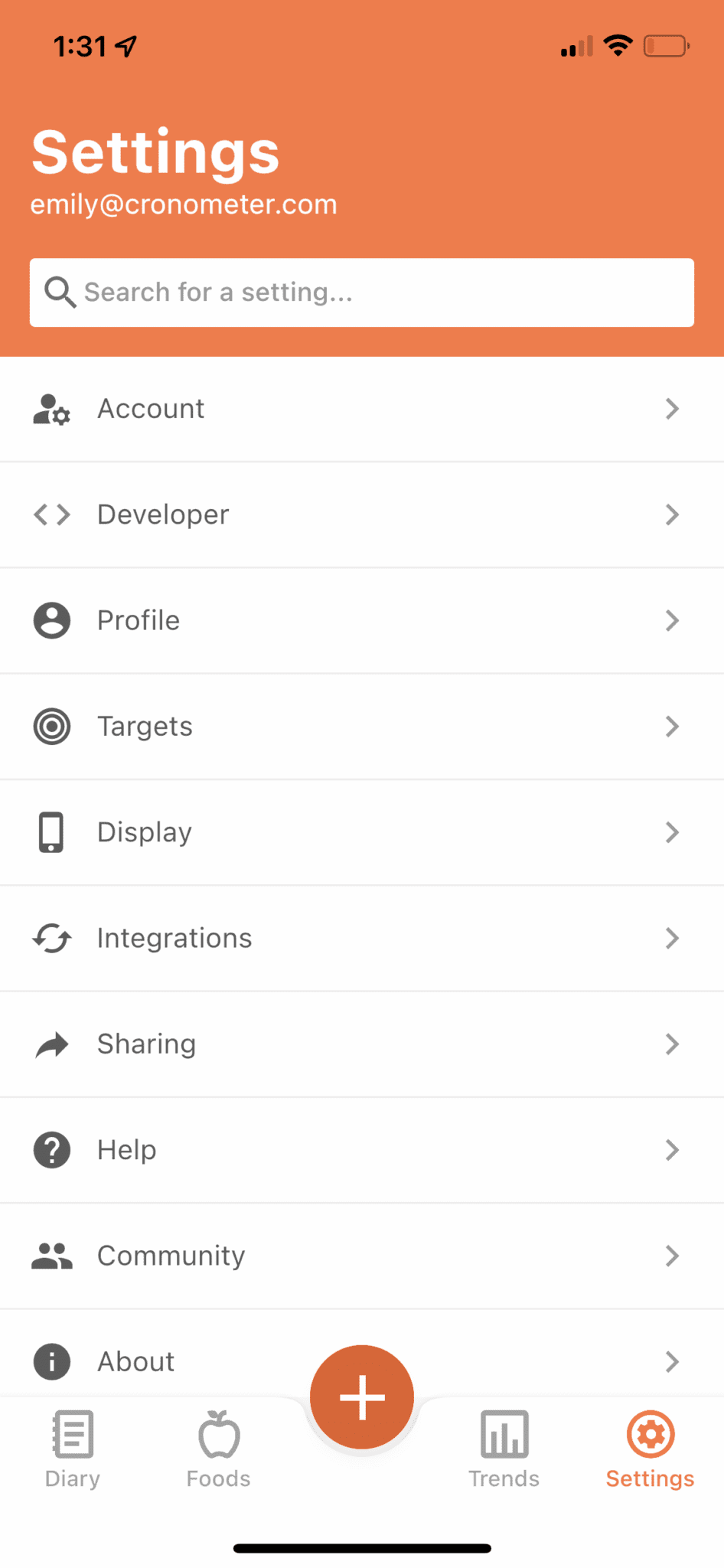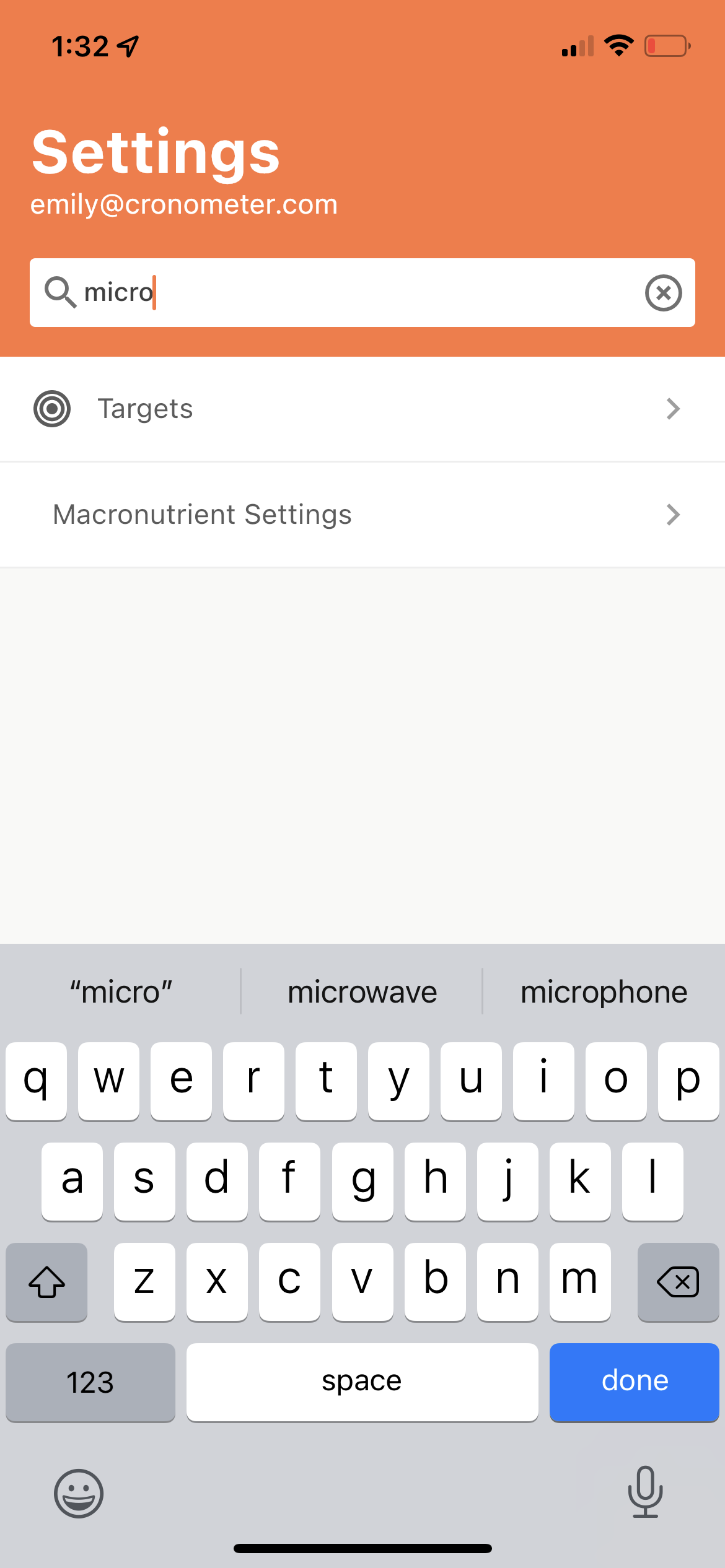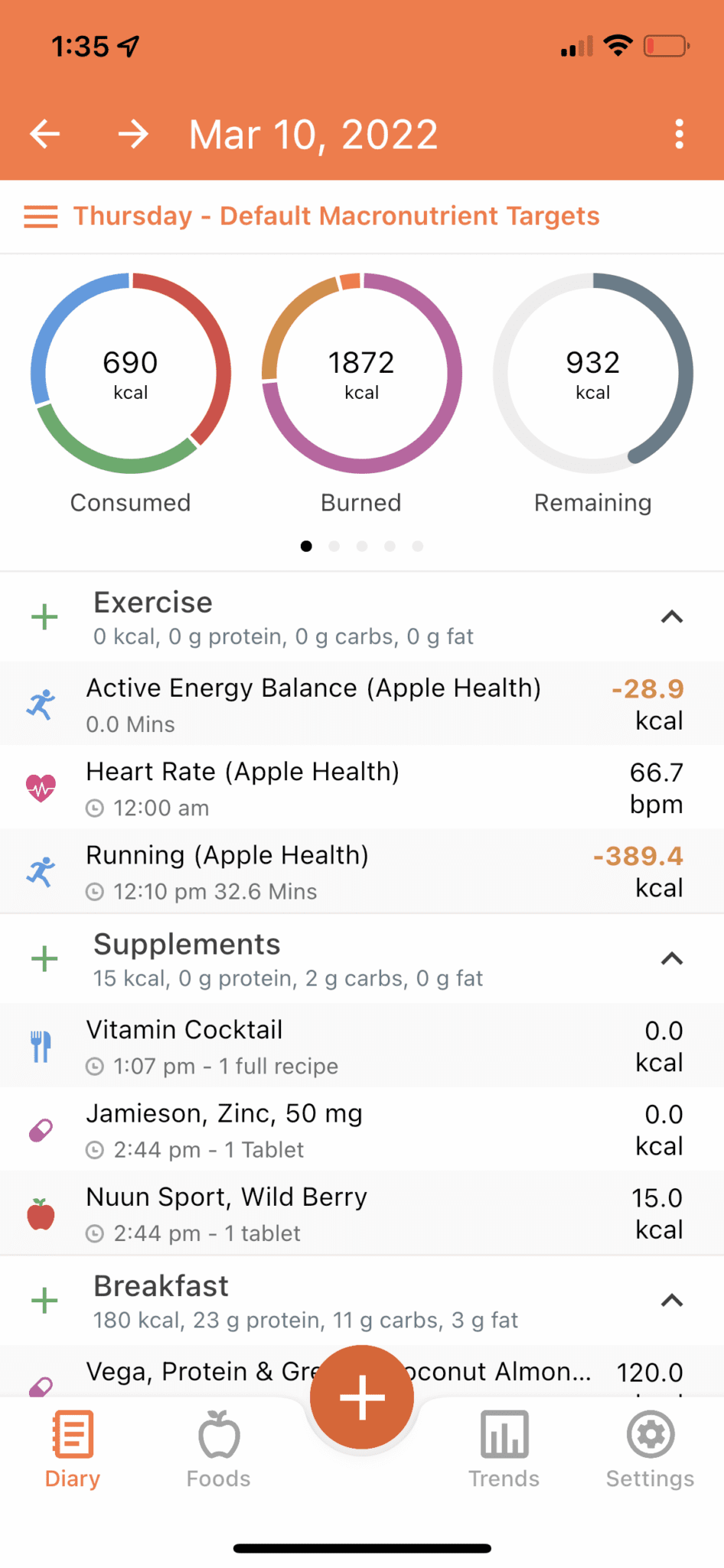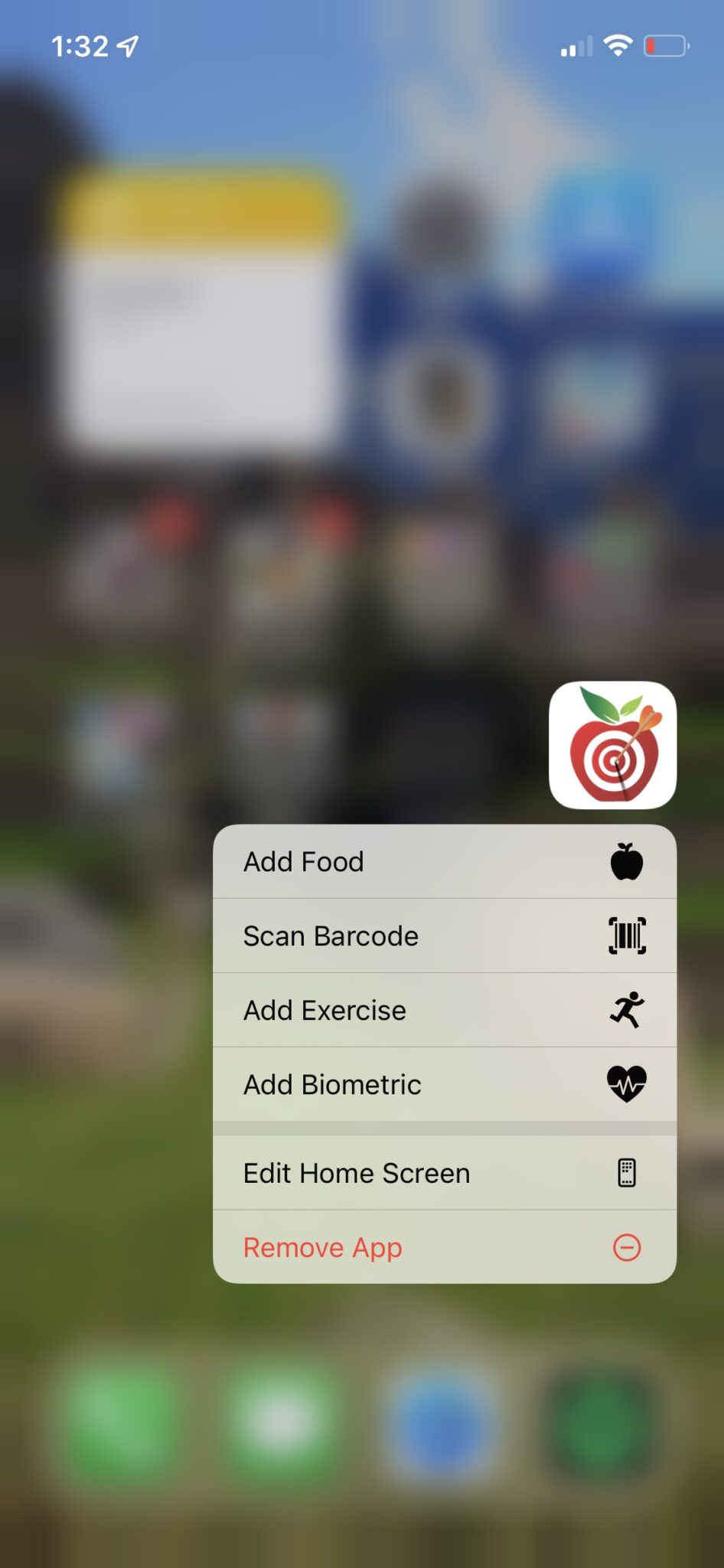 Home Screen Widget on Android

: Android users can now see a glimpse of their nutrition stats from their homepage! Learn how to set them up. 
Changes to the Barcode Scanner: we've made a couple design changes and you can now scan from any angle or manually enter the code if a scan fails. 
Changes to How Blood Pressure is Imported: we are now importing Blood pressure as a single metric from Google fit, Samsung Health & Apple Health.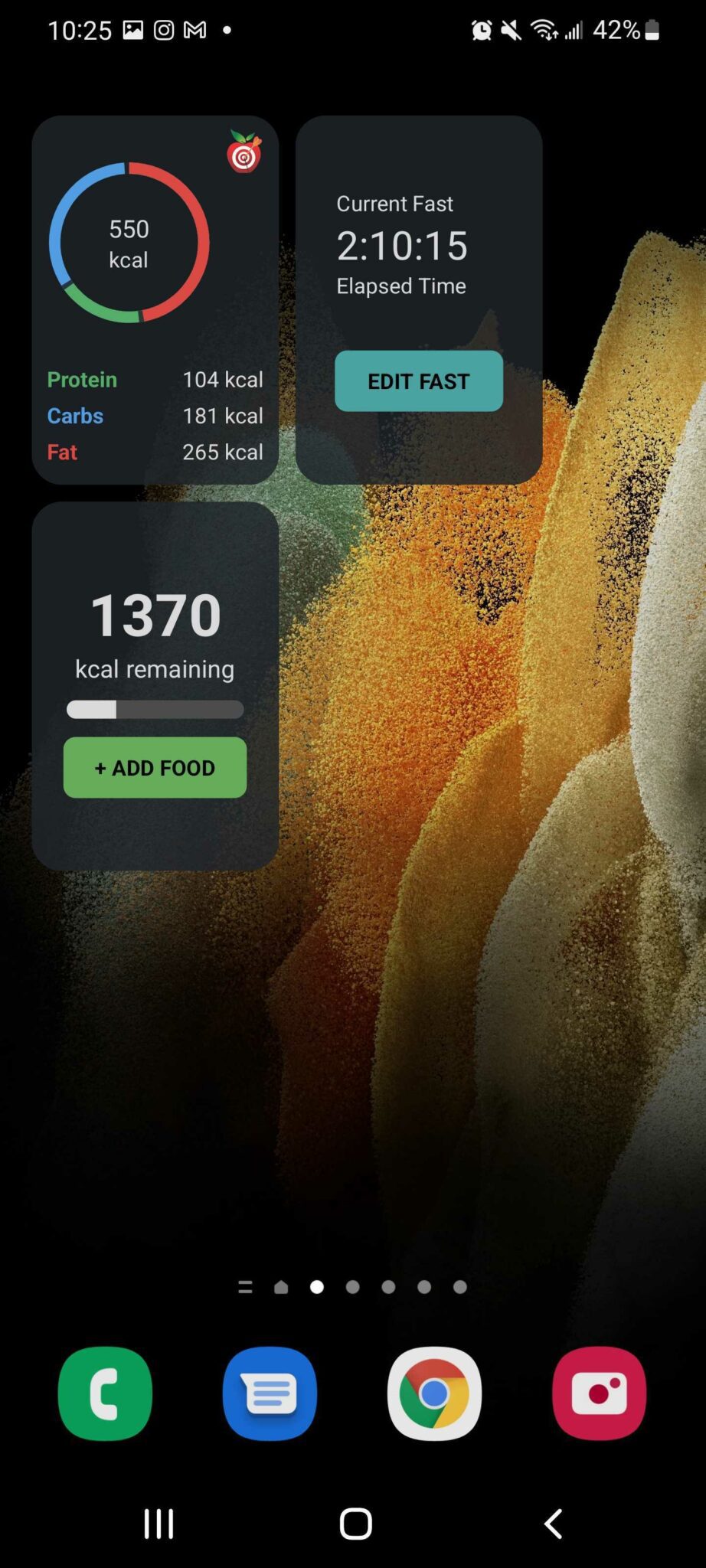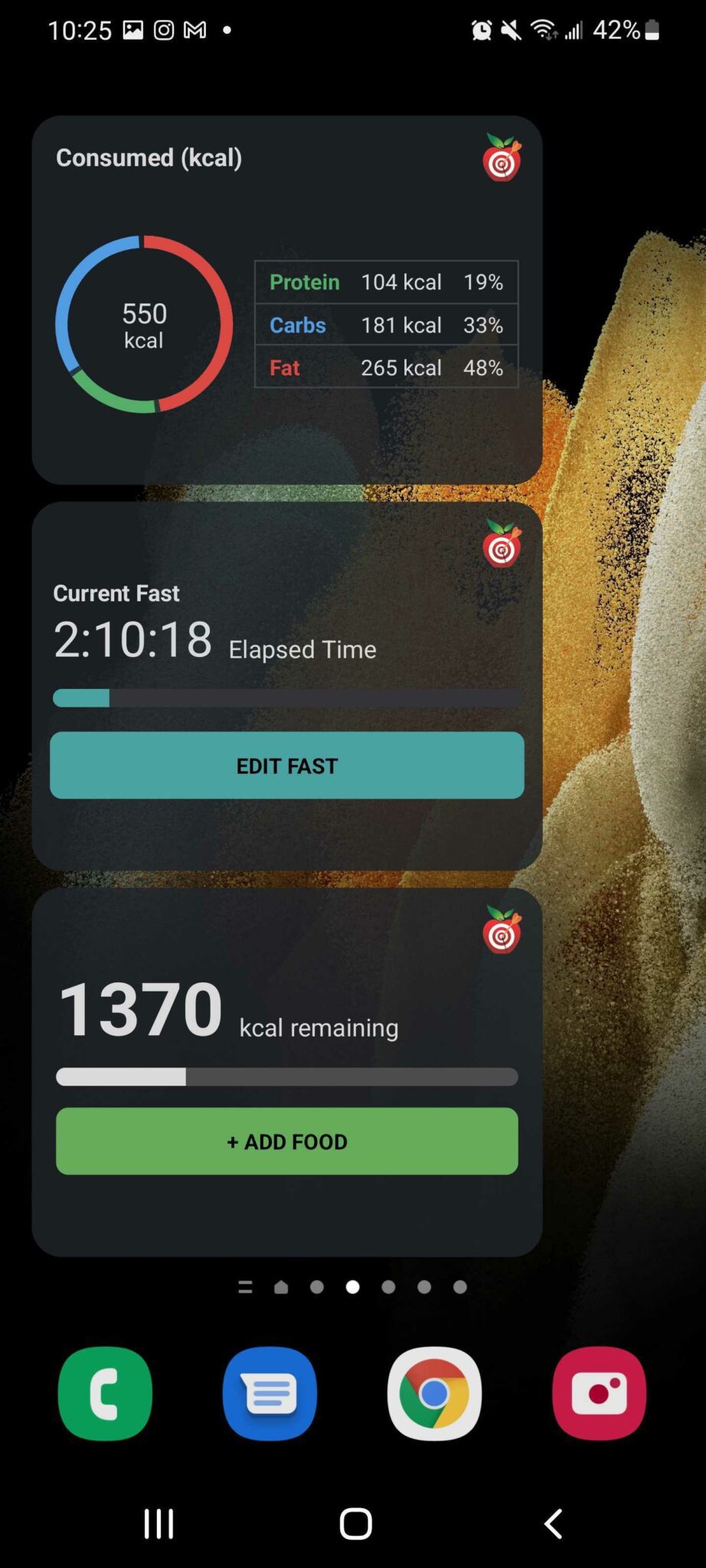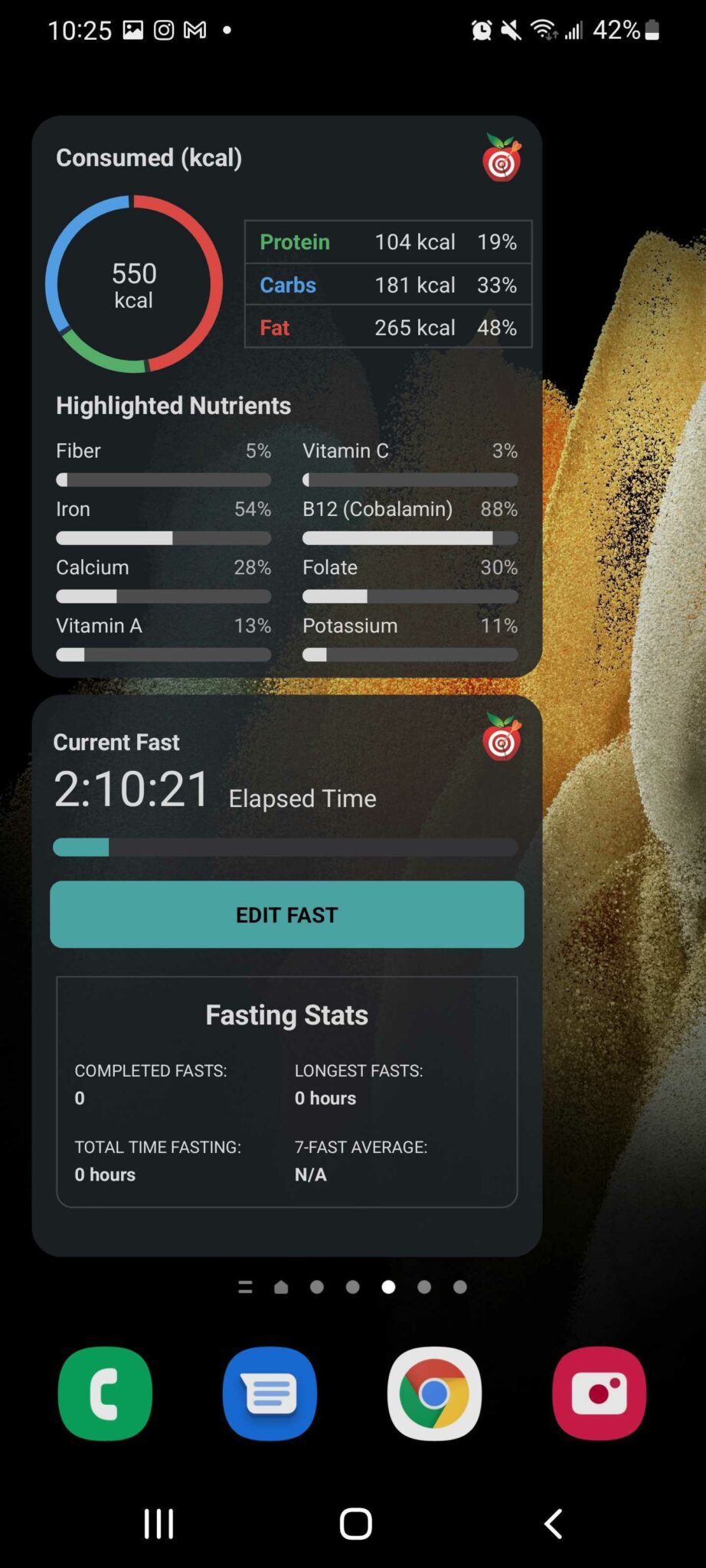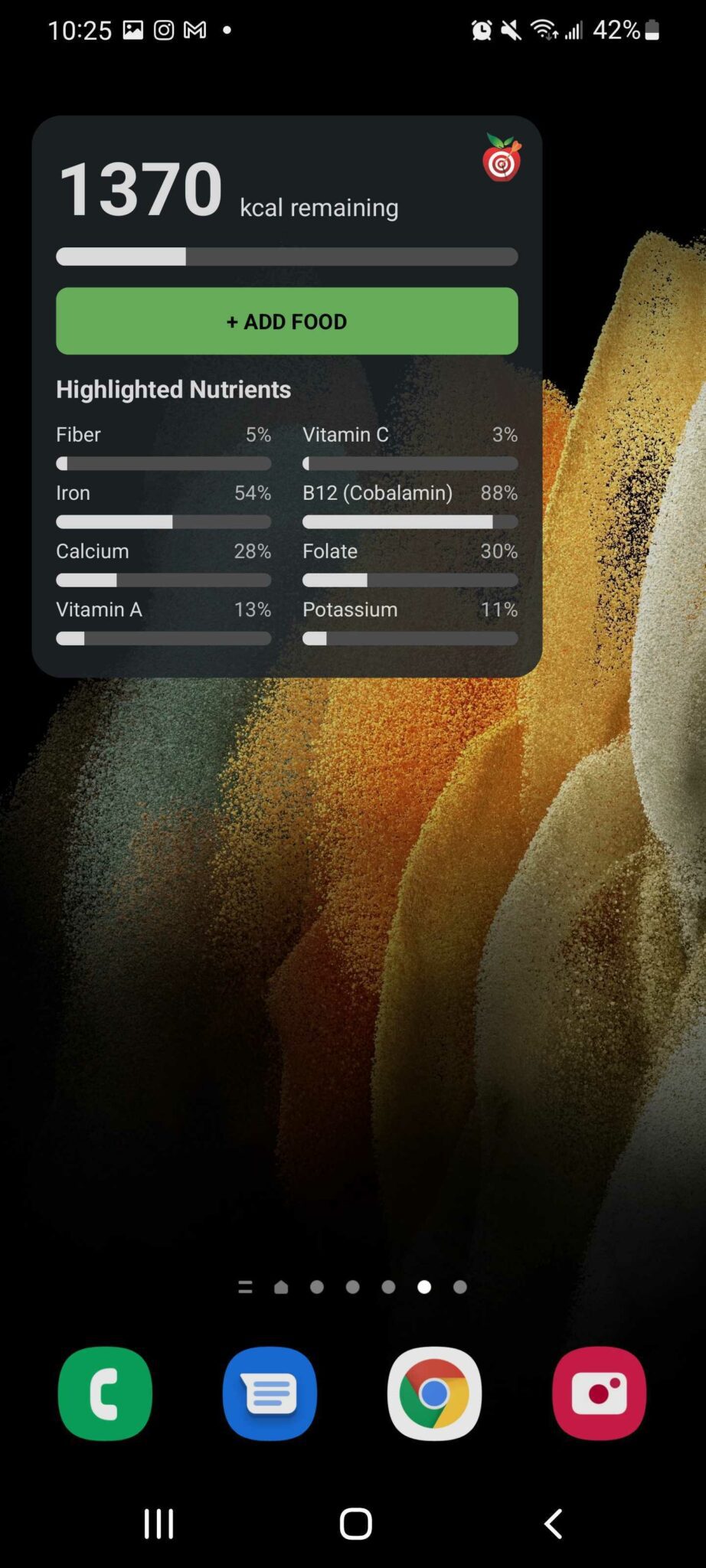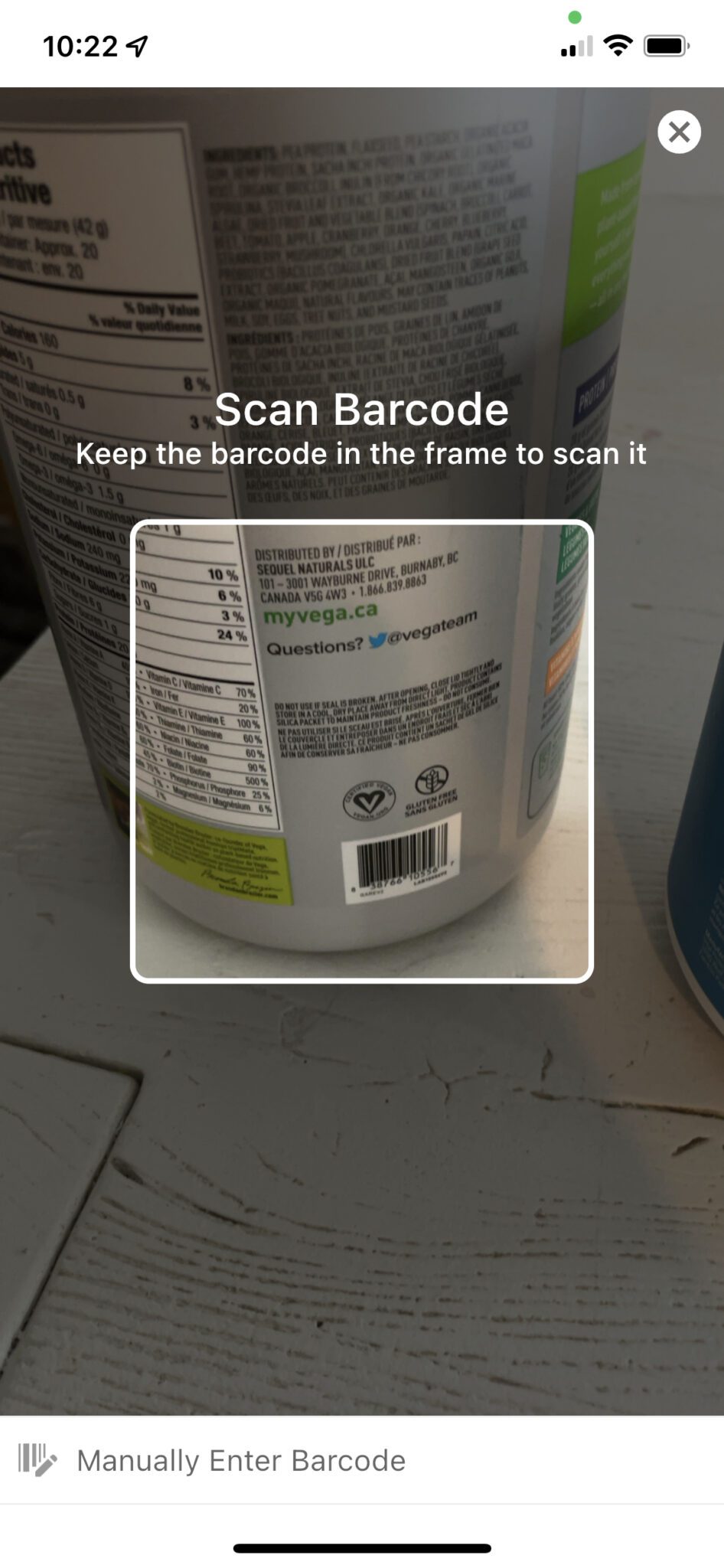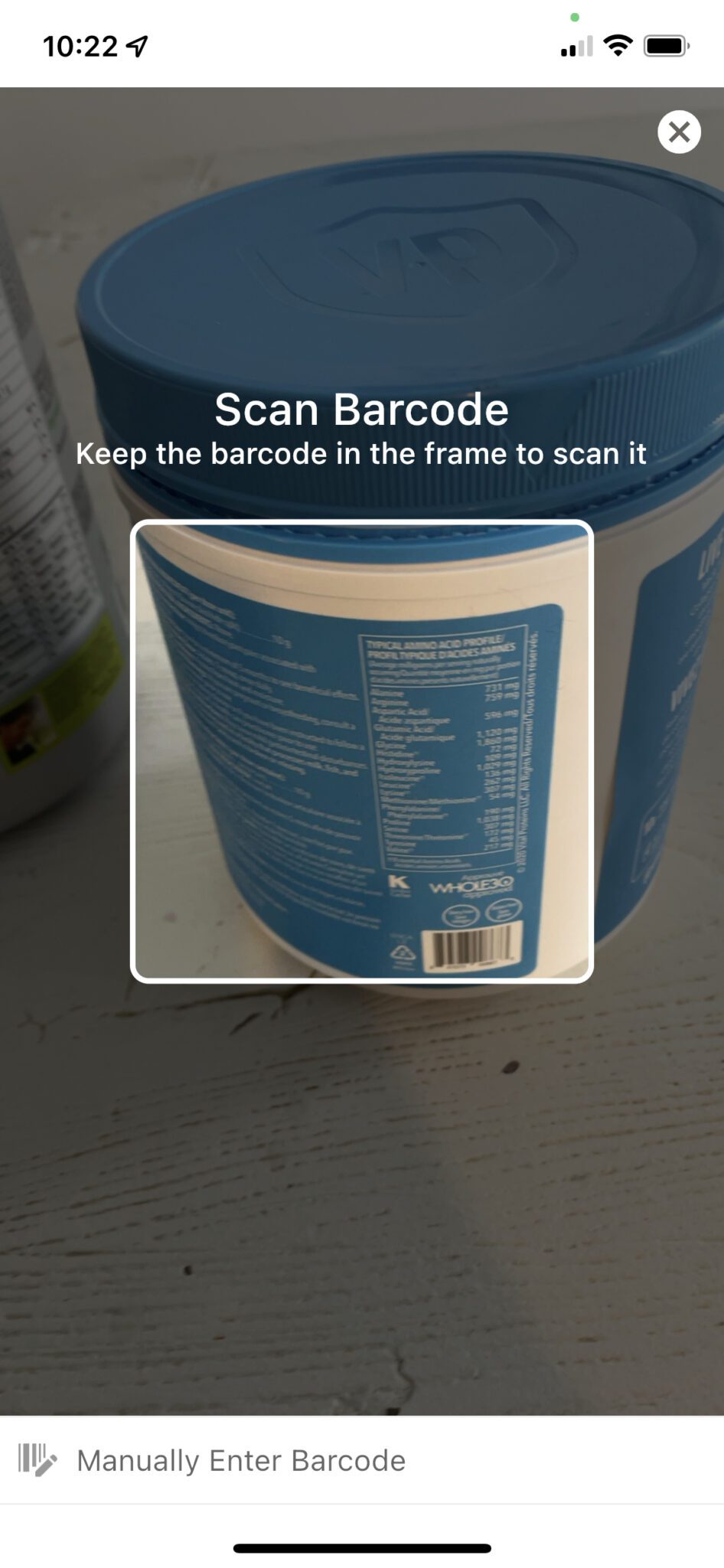 Changes to the Recipe Importer: you can now manually enter or copy/paste recipe ingredients into the Recipe Importer instead of the classic URL import.
Design Changes: we've made some general updates to the user interface (UI) to keep things fresh!
My Foods & My Recipes Page Update: we've made a few tweaks to the Foods page. If you don't have any Custom Recipes or Custom Foods loaded into your account, we've made it easier to create them straight from this page.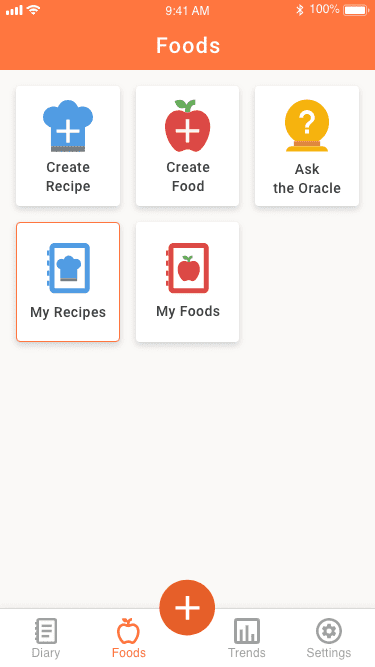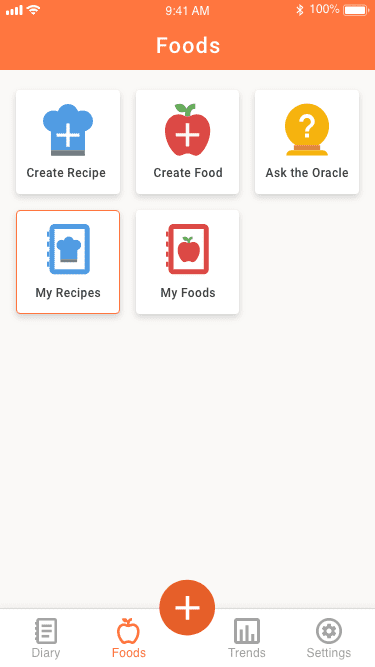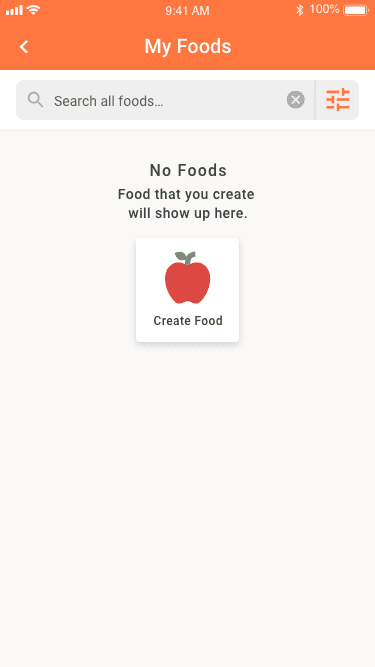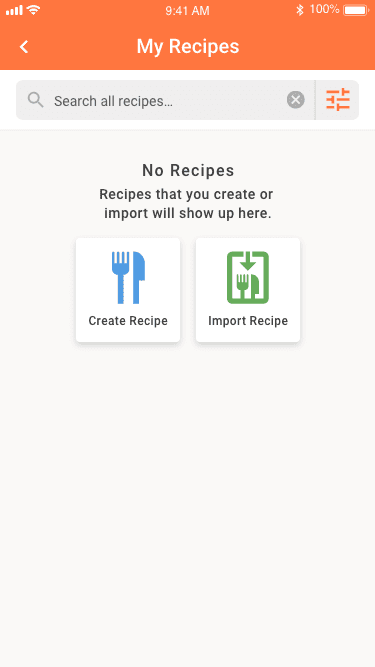 Introduced Categories for Biometrics: we've improved the user experience for adding biometrics to your diary. The 'Add Biometric' menu has gotten a face lift and now includes categories to simplify the process. We've also added a few new biometrics; blood pressure as a single metric, bicep size, chest size, V02 max, Bristol Stool Scale, C-reactive protein, & Hemoglobin A1C.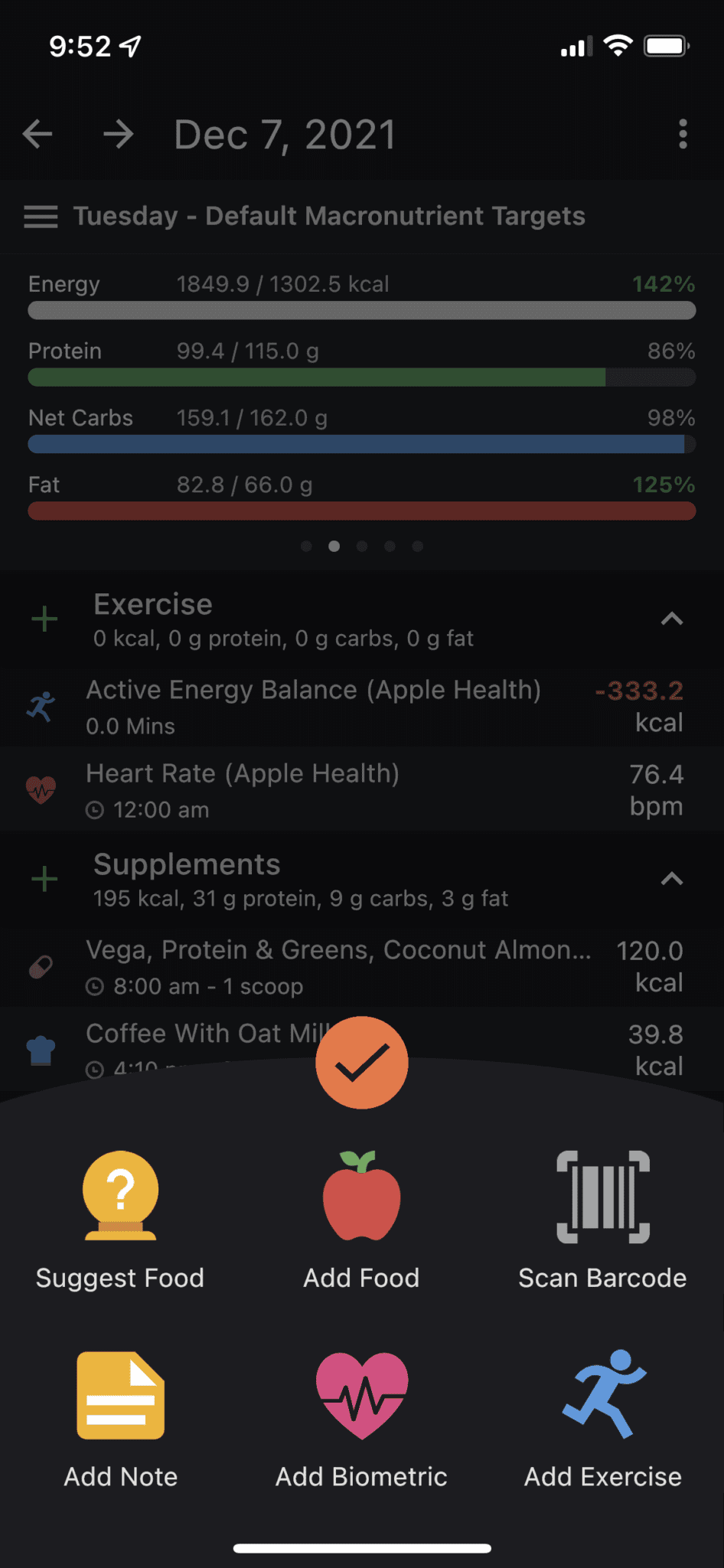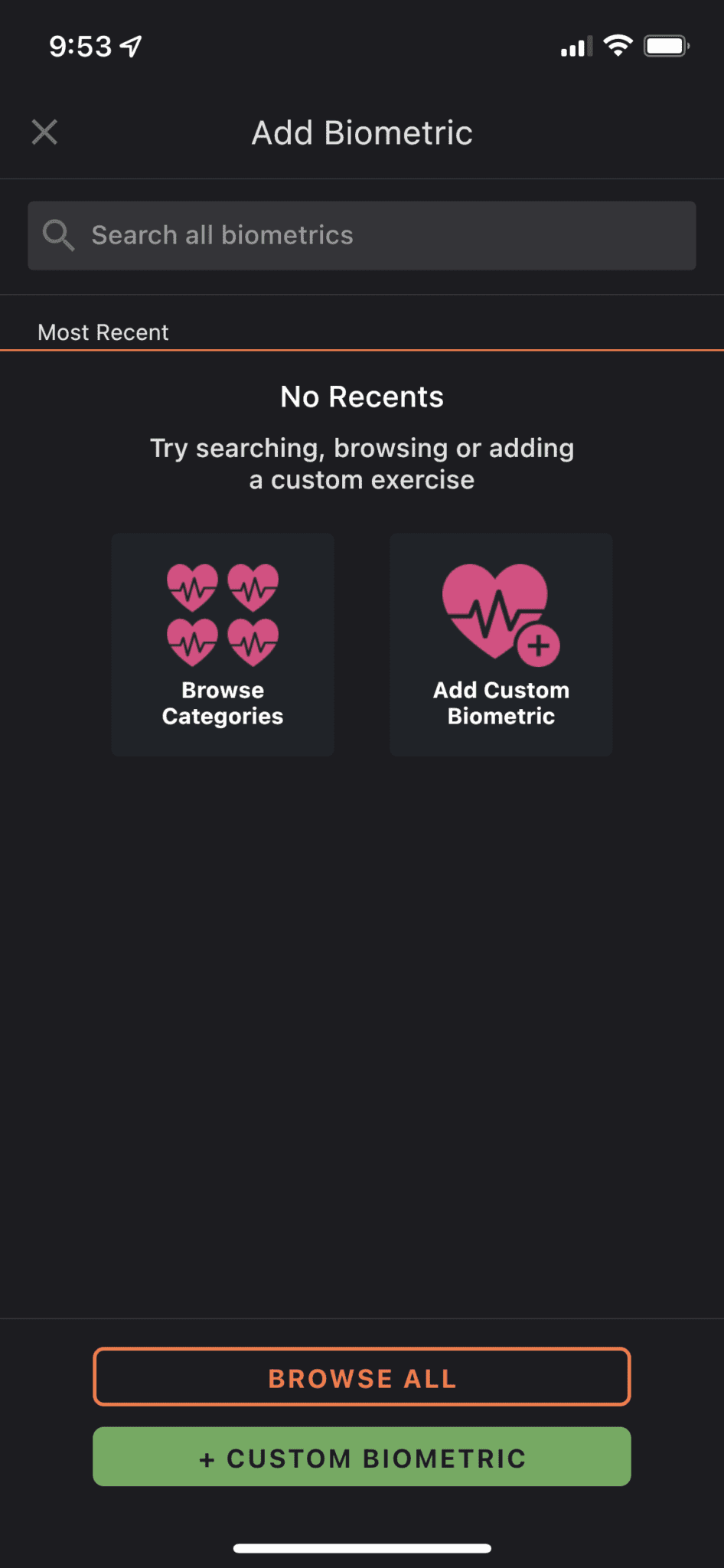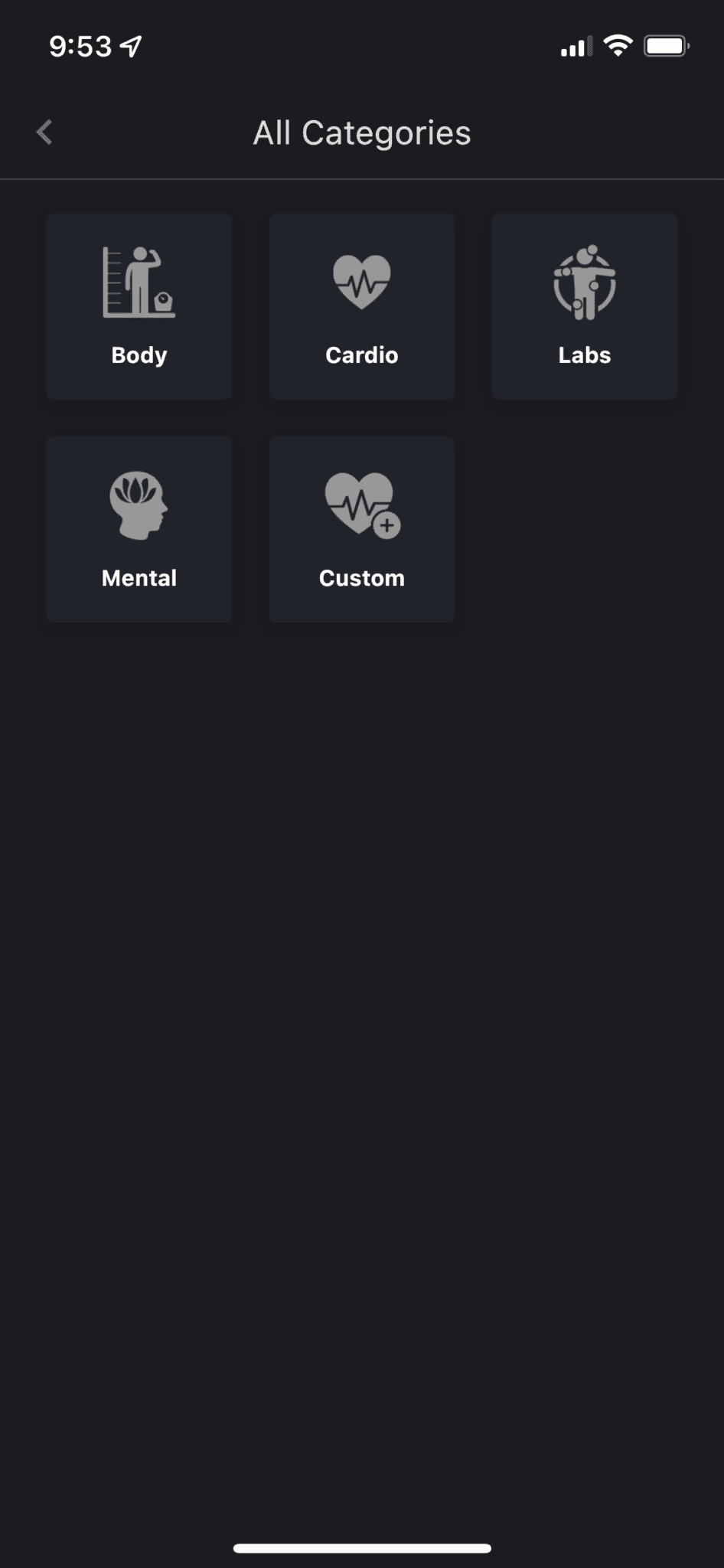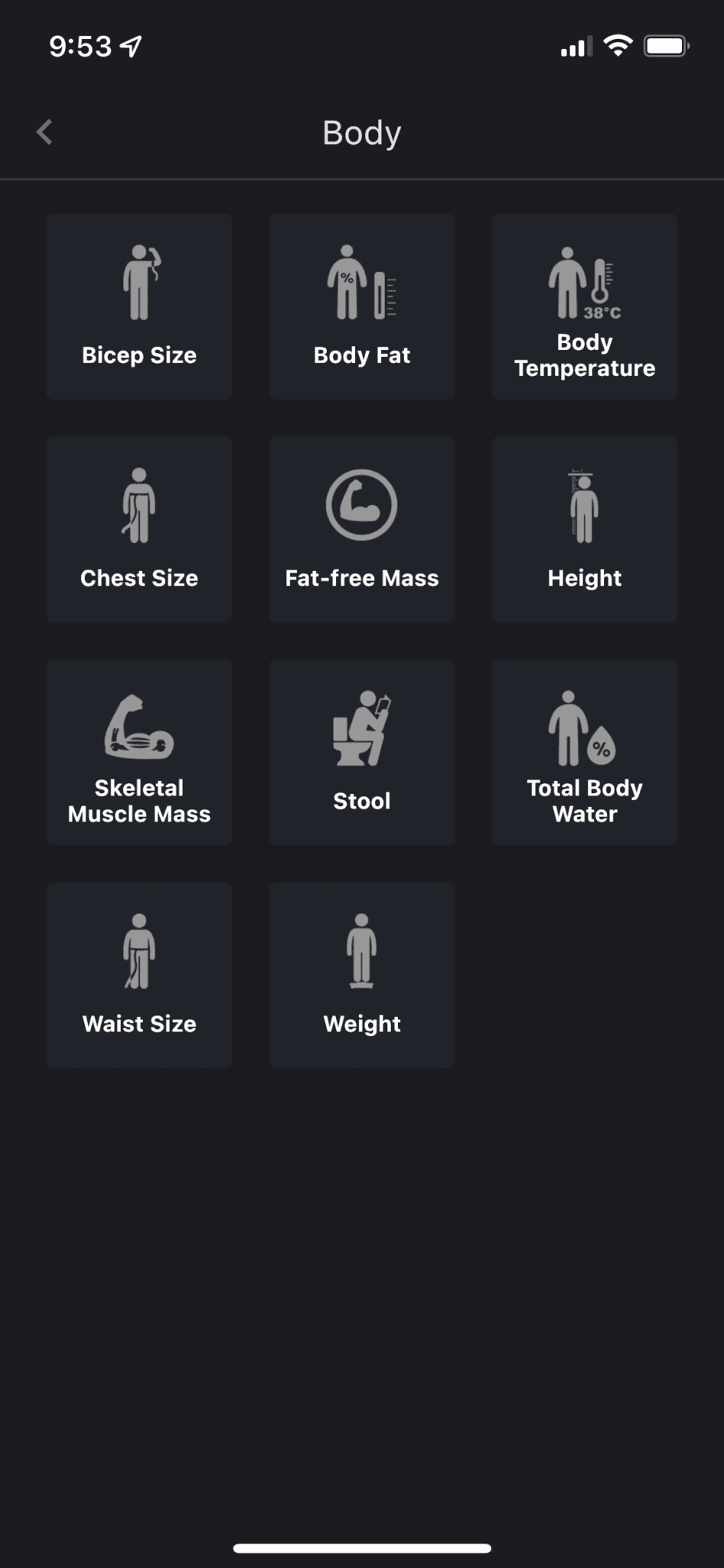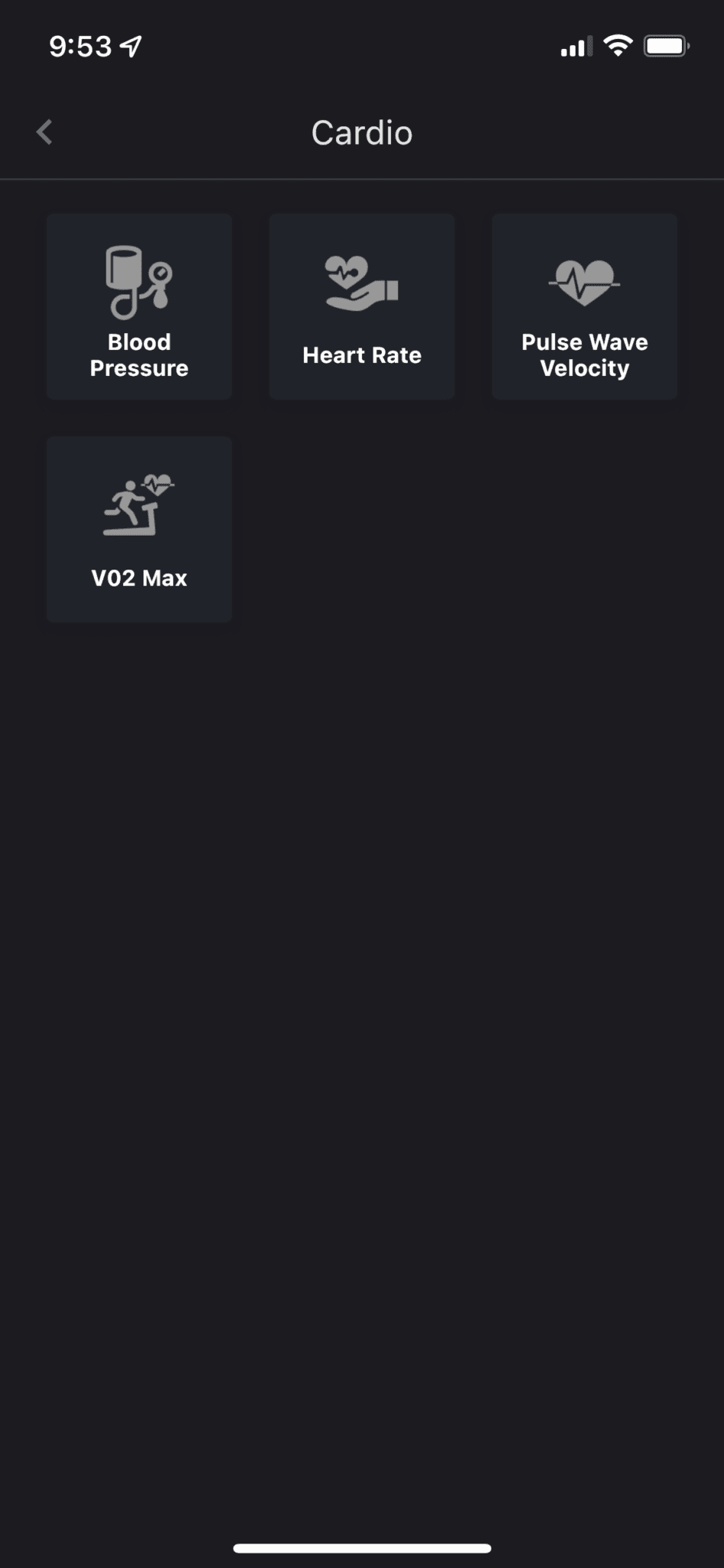 Released Target Scheduler: the all-new Target Scheduler functionality allows you to set custom macro targets for specific days of the week.
Fixed Barcode Scanner Issues: some users were running into issues using our bar code scanner. This has now been fixed!
Released Integration with BIA Measurements via the Samsung Galaxy Watch: Your body composition measurements from your Samsung Galaxy Watch can now be fed into your Cronometer account.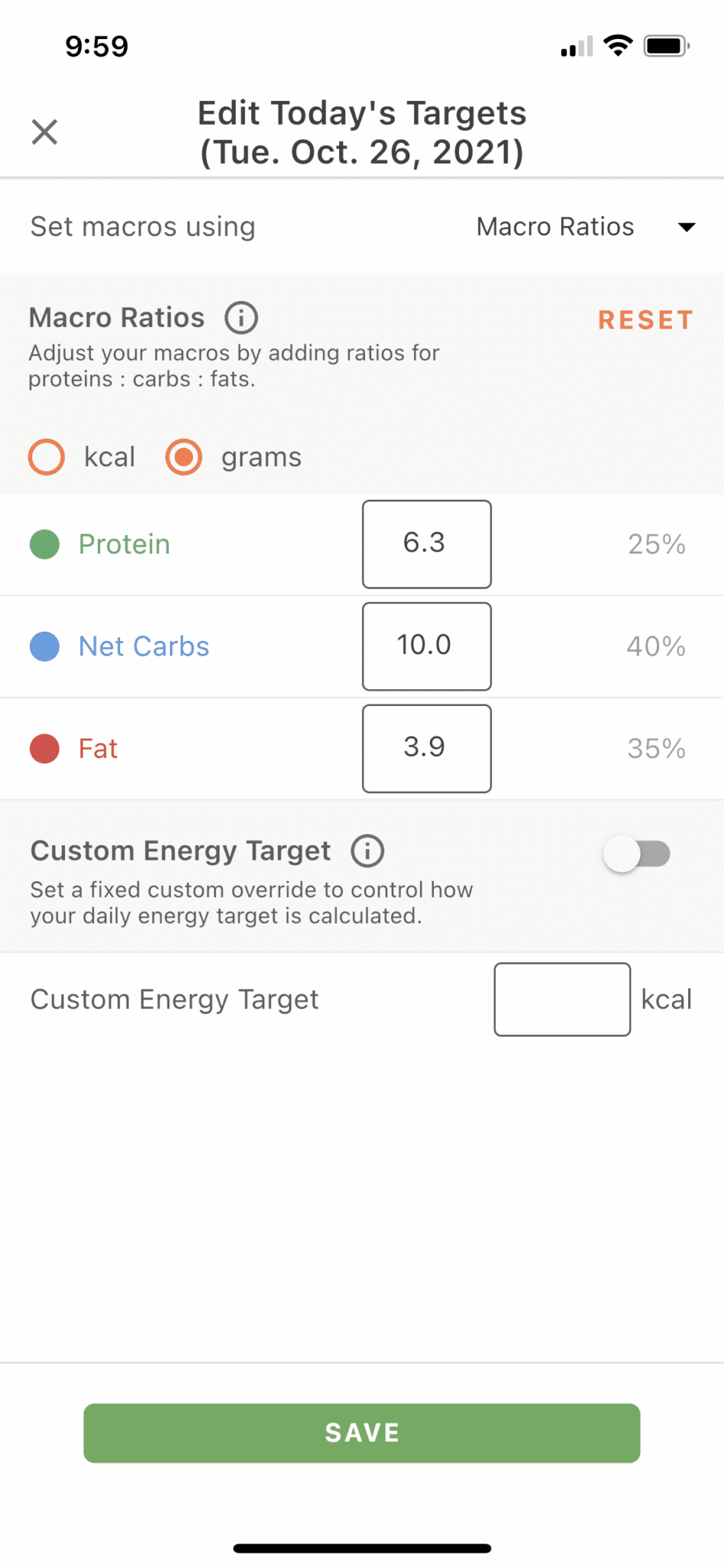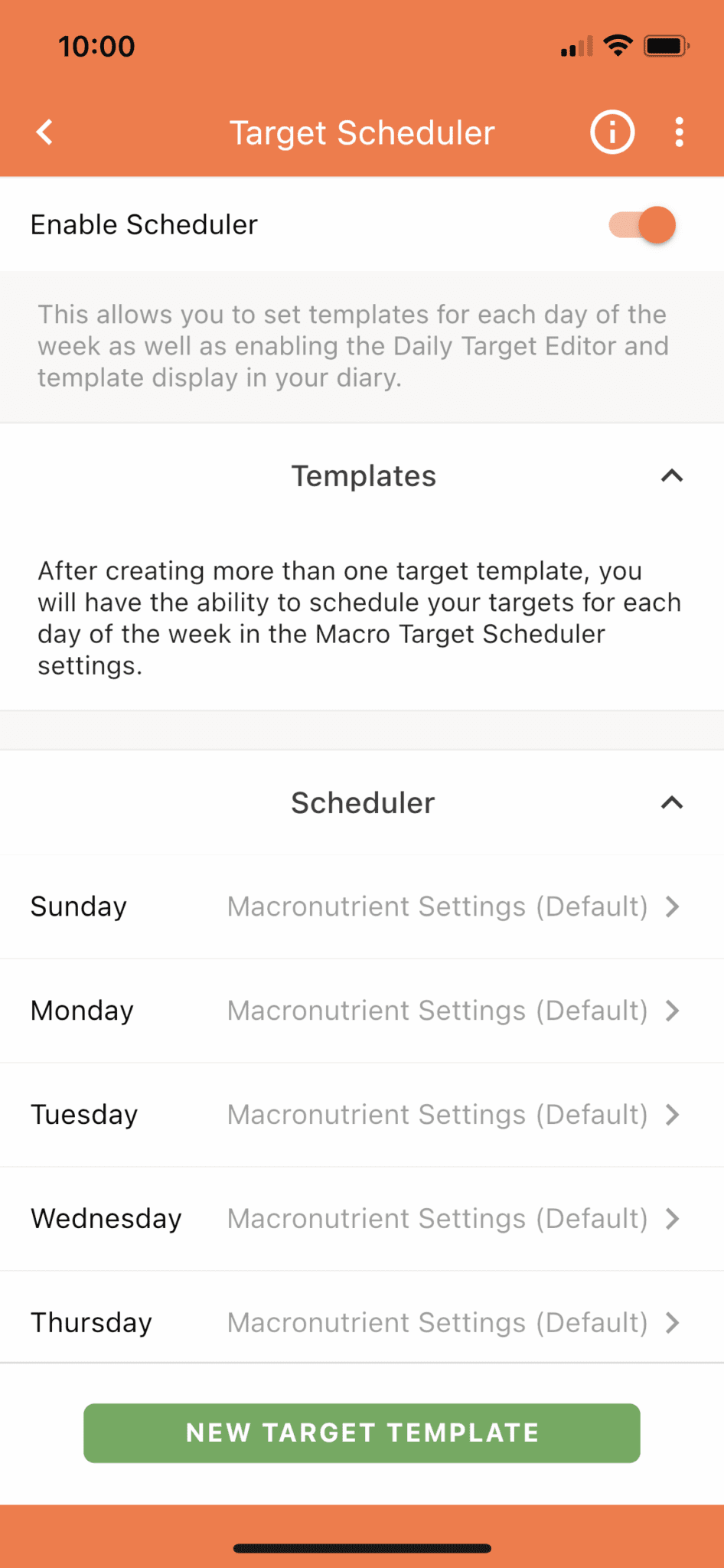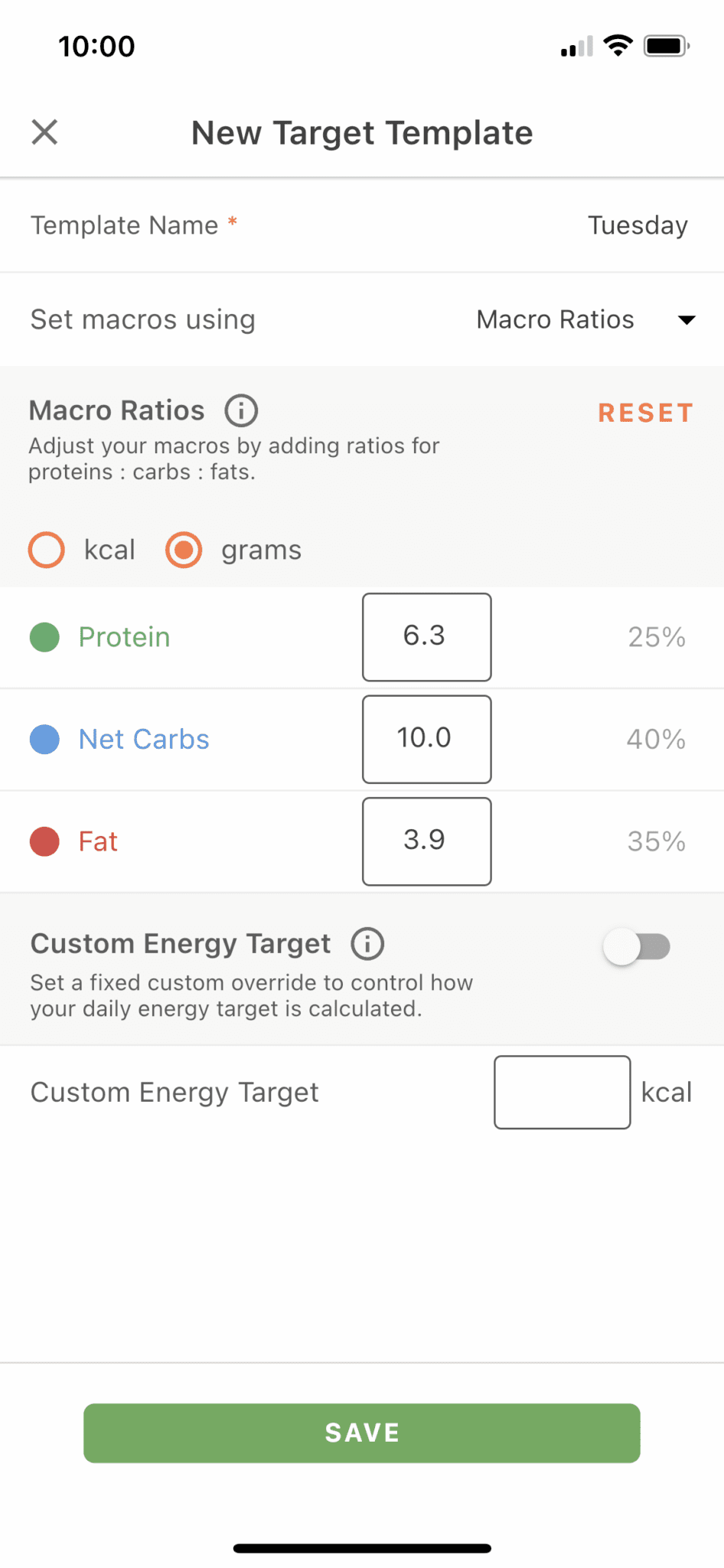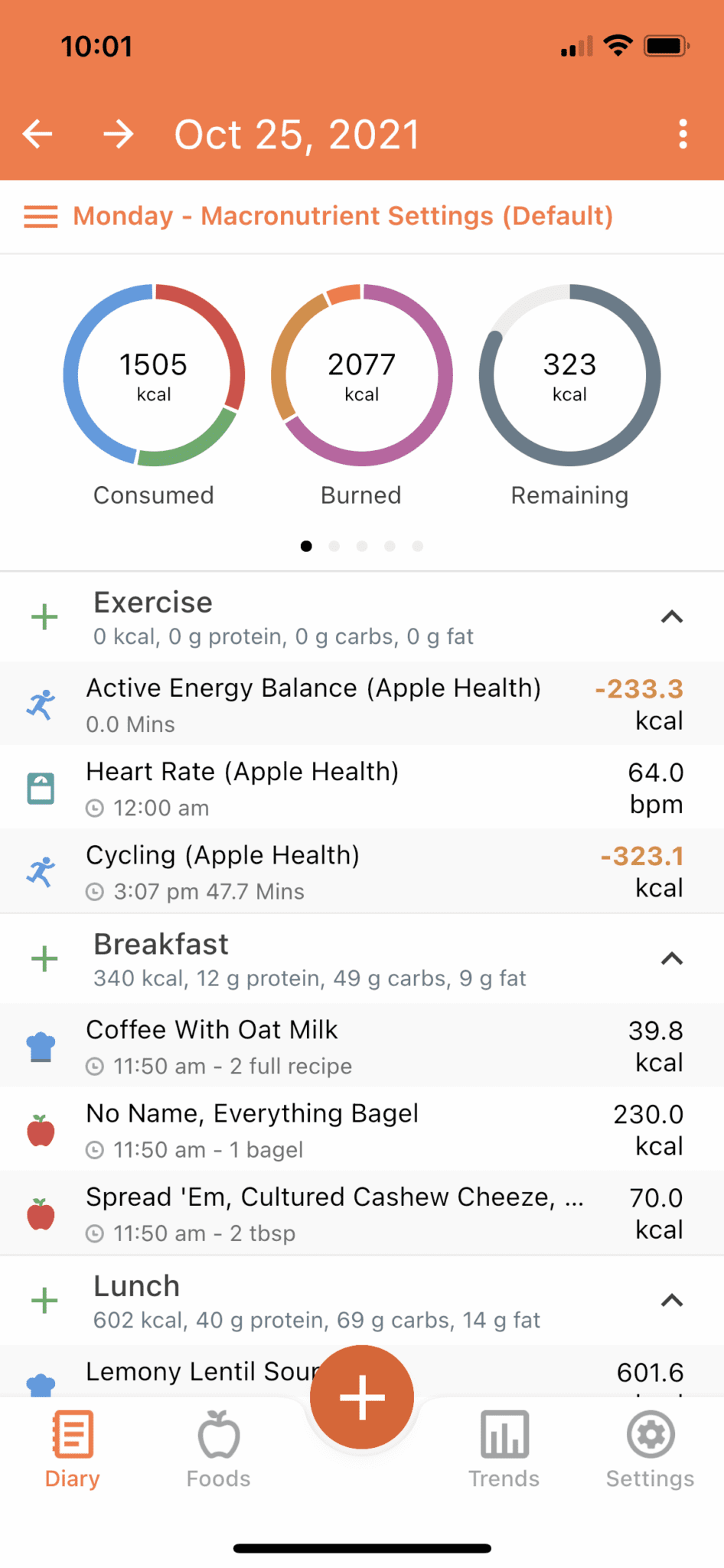 Released Recipe Importer on Android and iOS: the new Recipe Importer functionality is now available on the mobile app!
Home Screen Widget on iOS: iPhone users can now see a glimpse of their nutrition stats from their homepage!
Updates to the Mobile Food Search Interface: Searching for food items on your mobile just got easier with filters for specific food databases, sort by options, multi-add and swipe to delete recent food items.
Updates to the Mobile Foods Page: You now have a way to search your custom recipes and your custom foods from the Foods section of the app. 
Final Weight of a Custom Recipe: Weighing in your meals and something doesn't add up? You can now edit the final weight of your custom recipe.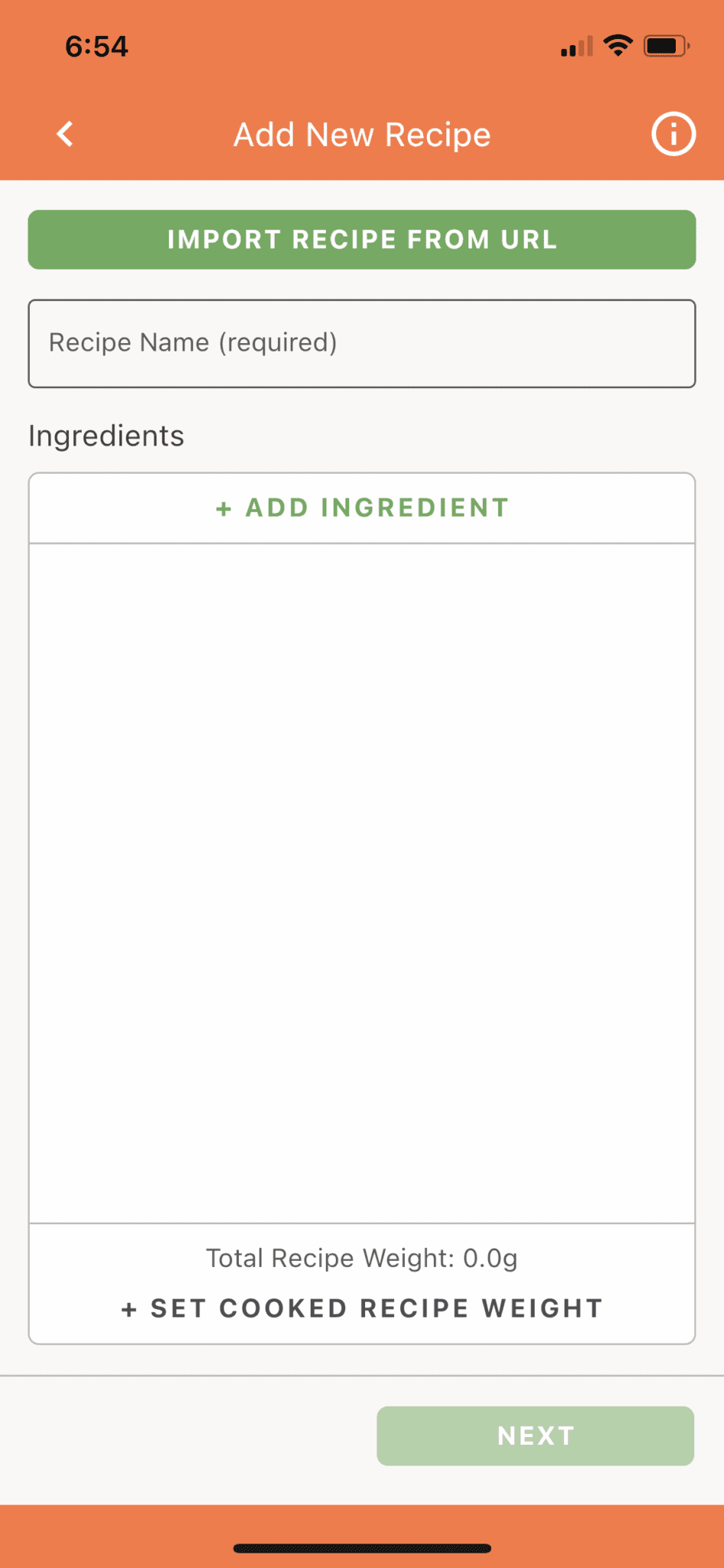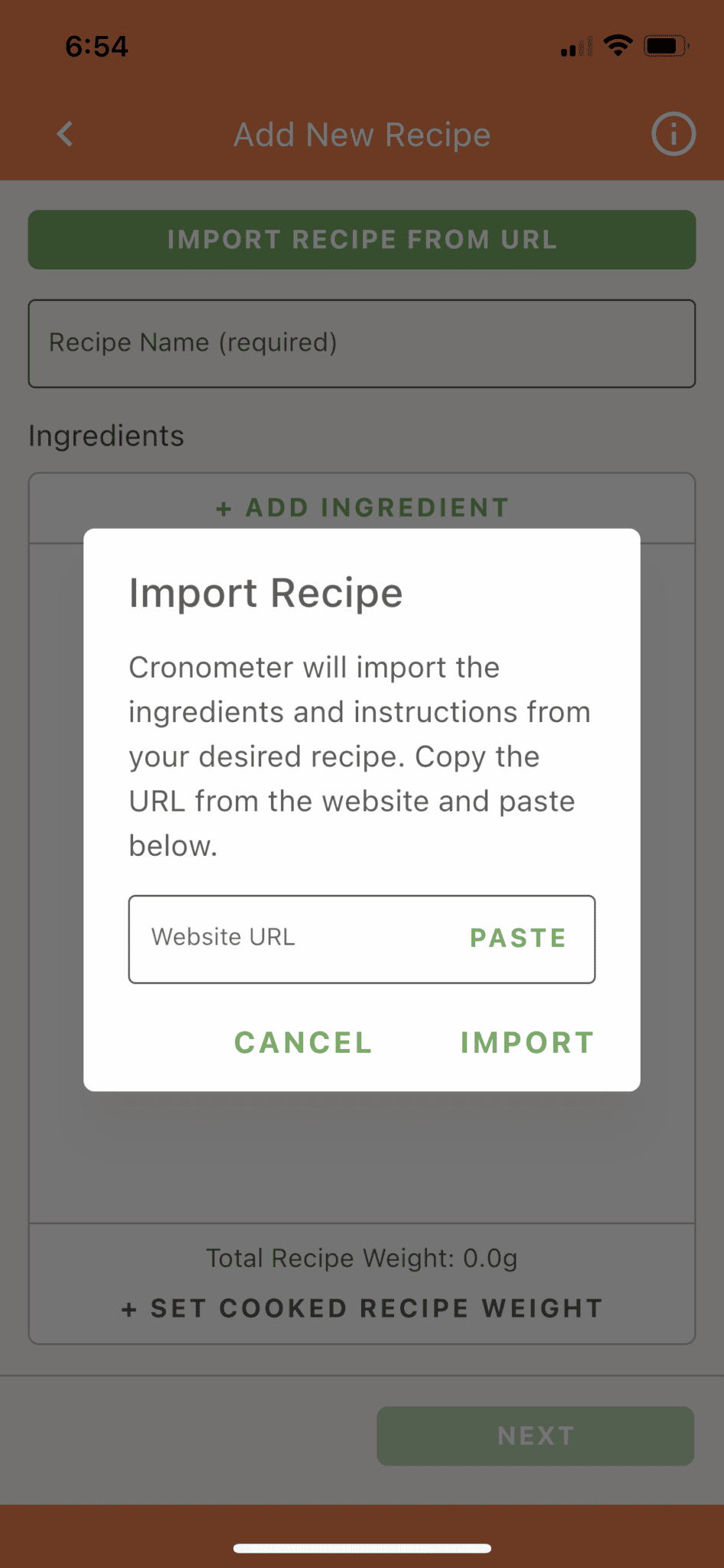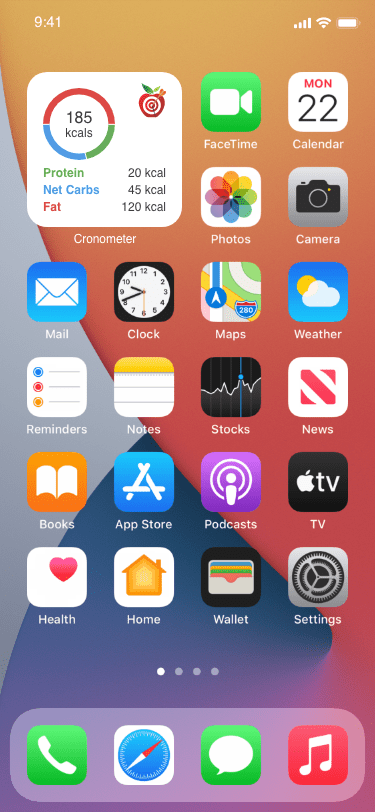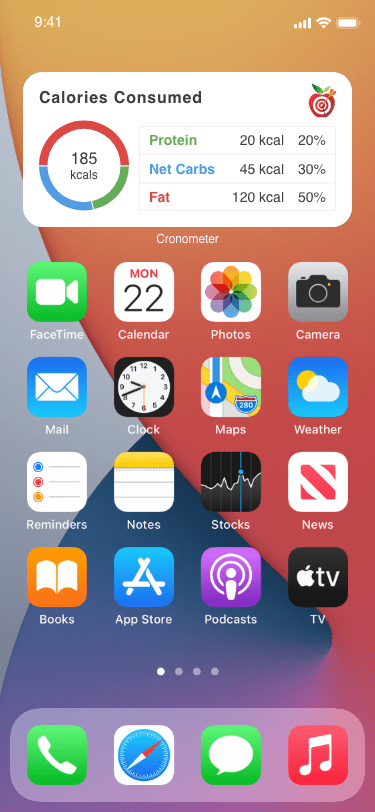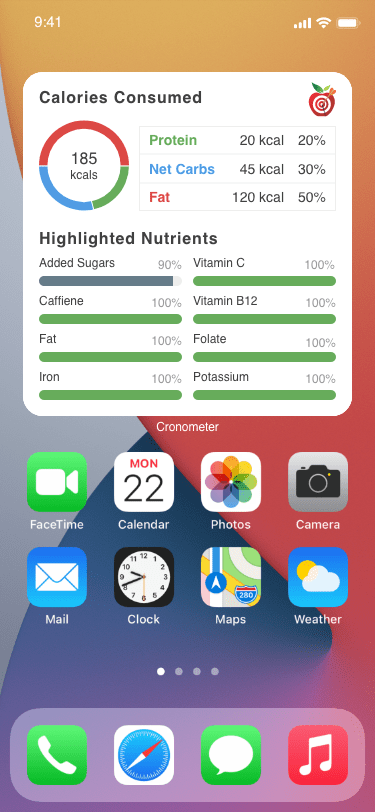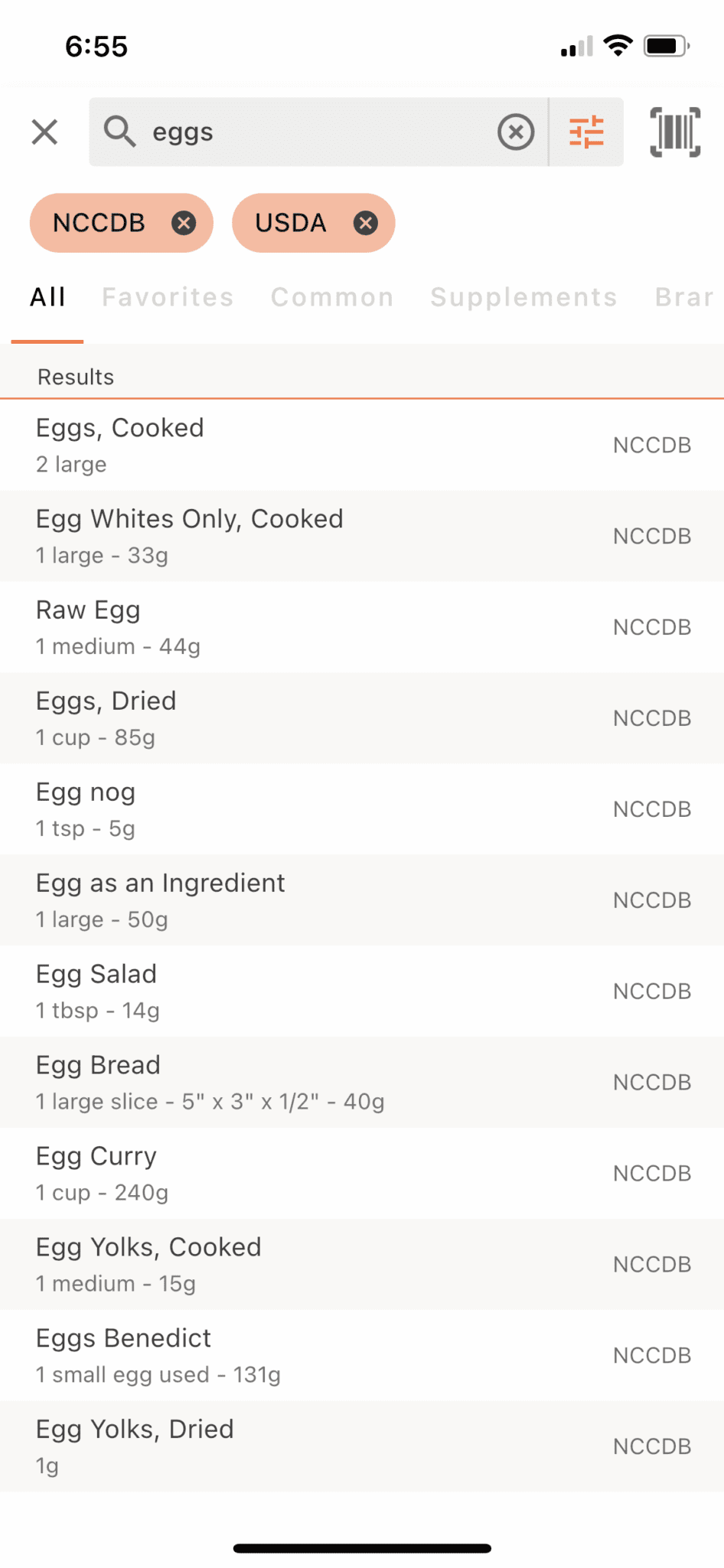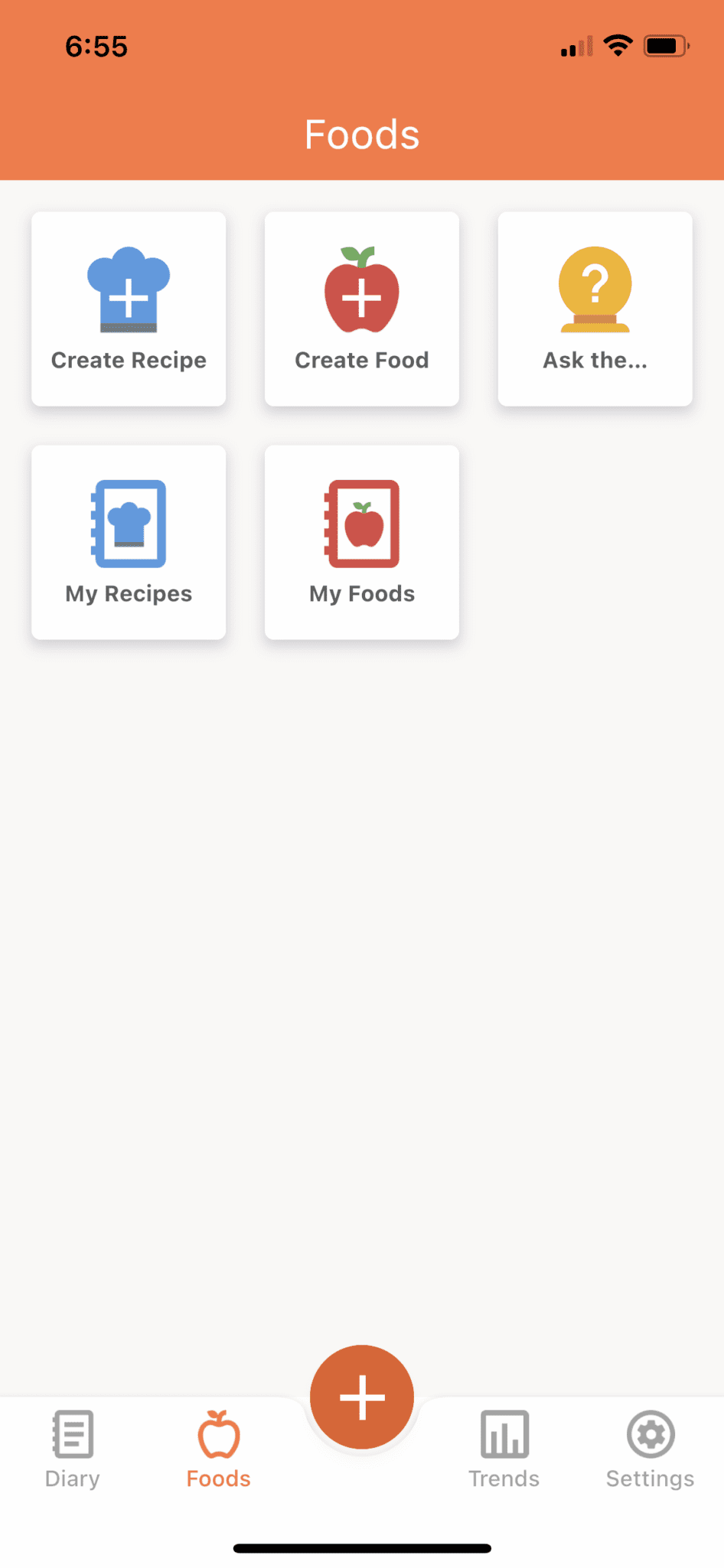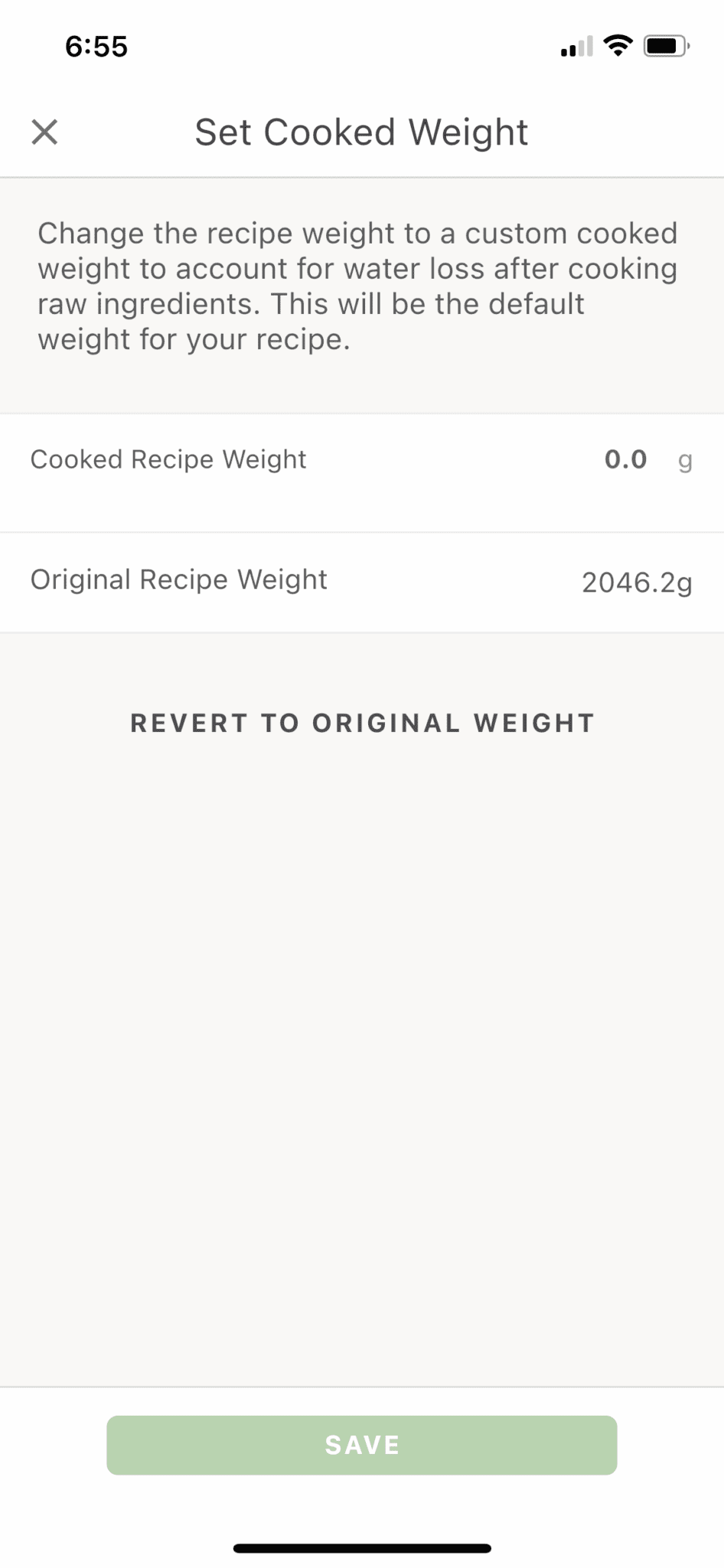 Keto Nutrition Score: for all of you keto dieters, we've introduced a Keto Nutrition Score, available to all gold subscribers. This new feature gives users an overall score on how their diet is meeting their keto nutrition goals.
Oxalate Tracking: free and gold users can now track Oxalate as a nutrient within the app. Learn how to turn this on in your settings and why you might want to track Oxalate in our blog post here.
Recent Cronometer UPDATES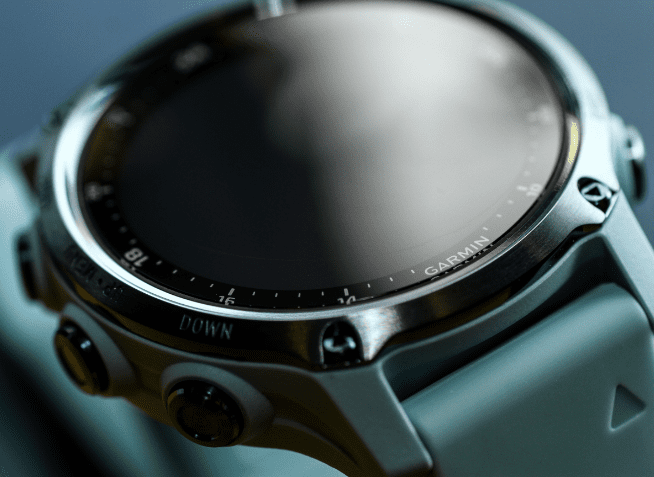 Sync Your Garmin Device With Cronometer updated may 2023 Many of our users know that we've been supporting a Garmin
Read More »